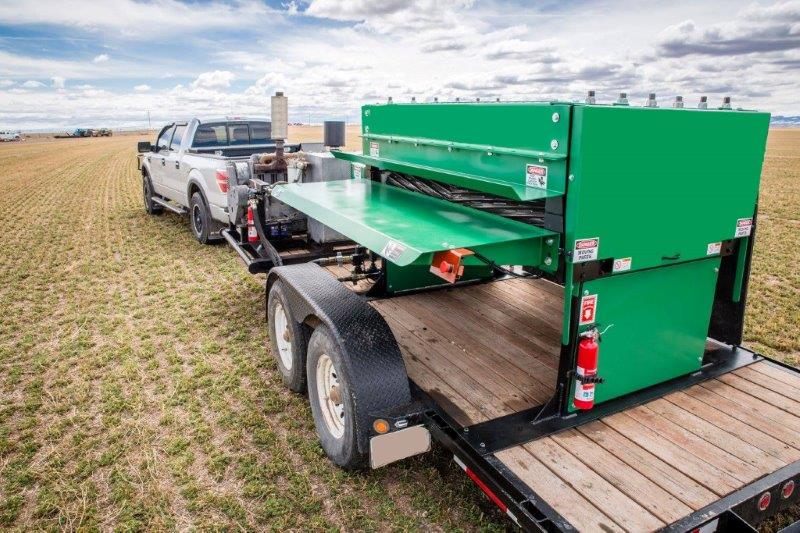 Want to grow hemp? Help is literally rolling toward fields in 20 states as a mobile unit capable of processing 10 tons of hemp per hour will set up HempHub farmers markets in the Midwest, Northeast and West in 2018.
Producers stuck on the hemp sidelines may be able to take advantage of HempHub USA, a push by two companies to transport a decortication machine into states with legal hemp programs. Essentially, the processing machinery will leapfrog perpetual infrastructure roadblocks and enable farmers to bring crops to market.
U.S. producers remain frustrated by a lack of opportunity because an approximate $700-million per year U.S. retail market for hemp products is dominated by imported grain and fiber. In 2017, the entire U.S. domestic hemp tally was a mere 25,541 acres, according to Vote Hemp. (However, the 2017 tally was a significant increase from 9,770 hemp acres in 2016.) Legal hoops, transport costs, marketing barriers and a lack of processing have accounted for a near-impenetrable financial tangle for many growers. HempLogic, based in Moses Lake, Wash., offers potential producers a range of services, including seed, consulting, harvest and processing. HempHub USA, at the heart of HempLogic's push, is a mobile processing system designed to offer farmers an open door into the hemp market.
"We're doing this because farmers are standing around in every state wanting to grow hemp, but until now they've been stuck with a simple question: 'What are we going to do with it?'" says Cory Sharp, CEO of HempLogic. "If you are in a state without hemp processing infrastructure, we can help."
Sharp's mobile processor is a decorticator, which separates fiber (outer bark) from hurd (woodier core). The decorticator is built by Colorado-based Power Zone Agriculture. For growers seeking fiber or hurd contracts, equipment has been a missing puzzle piece, but Corbett Hefner, vice president of research and development for Power Zone, says mobile decorticators are ideal for hemp grower needs: "If a hemp buyer is making automotive parts, or cordage or sound abatement panels, they're not interested in hurd. Other hemp buyers are making hempcrete, hemp blocks or using it as animal bedding, and they're not interested in the fiber. The mobile HempHub farmers market system allows for different hemp buyer needs and we'll package the first mill-processed hemp according to those needs."
Generally, hemp-specific machinery is limited and many growers use modified equipment. Power Zone designs industrial hemp machinery for handling hemp grain, fiber, hurd and flower material. Power Zone's pull-behind Grasshopper is the largest chaff cart ever built (45 cubic meter holding capacity), according to Hefner: "If a grower harvests grain for food consumption or oil pressing, he can collect the flower material kicked out of the combine for a second revenue stream. Then he can come back later to cut the stalks and run the material through a decorticator for a possible third stream."
For first-time hemp growers, Sharp recommends 50 to 100 acres to get comfortable with the learning curve. "You don't want to grow 500 or 1,000 acres as a hemp pioneer. It's a fairly easy crop, but for the first year, the goal is to just get hemp seed in the ground in 2018 to learn from that experience and then increase acres in 2019," he says.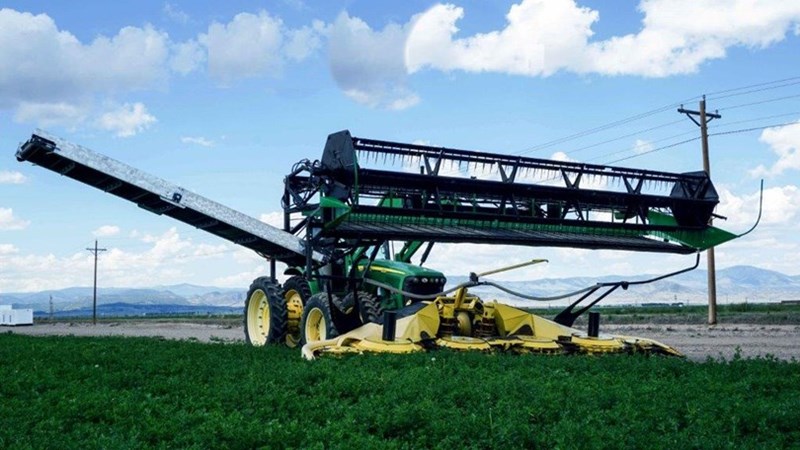 Sharp consistently fields calls from growers requesting decortication for sitting hemp stalk bales. HempHub USA will enable growers to haul in their hemp bales to given HempHub market locations inside their own state, he explains: "We're giving farmers an option. We'll decorticate and find out what they've got depending on variety and condition of the stalk. Then depending on the farmers' end goals we can work together to get them access to the many different hemp varieties available and then they'll have a clearer plan on how to move forward to 2019."
"When hemp farmers realize there is a mobile decortication unit running around the country that will come to them to process their hemp, and have a marketplace to sell their products, they're going to take advantage of that opportunity," Sharp adds. "We're innovating and doing this the American way."
Andy Follett, owner of Follett Health Solutions, based in Pennsylvania, will steer the HempHub USA effort in the Northeast. He'll start in New York and make his way south, following the harvest. The biggest hemp limitations are processing and market entry, according to Follett, both of which are directly targeted by HempHub USA. If needed, the system will provide seed, harvest and take the farmers product to market, emphasizes Follett: "I'm consistently asked how much money can be made growing hemp. We're talking about one plant and 50 different industries. I advise farmers to figure out what market they want to put their product into and focus on it. Before you plant, make sure you've got a solid supply chain in hand."
Despite legislative barriers and certified seed issues, Follett says although acreage numbers must steadily climb, the market is ready for hemp as a standard crop: "One hundred guys with 10 acres won't satisfy a buyer who demands 10 containers of product. For example, if you pull 70,000 lb. of grain off of 300 acres, that won't even fill two containers for export."
"Growers are excited about hemp, but they just don't know where to turn. Everyone with a farm is looking to increase revenue and for a lot of guys, it comes back to hemp," he adds. "There's so much hemp history in my area and this ground is still prime for hemp."
For more information, see hemphubsusa.com.