The grain markets ended the week bullish, even though USDA confirmed record-breaking corn and soybean yields this week. December corn prices were up 17.25¢ and November soybean prices were up 31¢ for the week ending Aug. 14. September wheat prices were up 5.25¢.
In the Aug. 12, 2020, report, USDA provided these estimates:
Corn
15.278 billion bu. for production
181.1 bu. per acre yield
92 million acres planted
Soybeans
4.425 billion bu. for production
53.3 bu. per acre yield
83.8 million acres planted
"It was pretty well advertised we had a big crop coming," says Jerry Gulke, president of the Gulke Group. "We knew there was some records in the making. But I was quite shocked USDA would raise yields this early."
From a fundamental standpoint, Gulke says, corn and soybean prices should have sank based on the projected increase in supply. 
"Buyers started to buy grain and we closed well after the report," he says.  "Now it's really up to weather and whether or not China and the U.S. come out of their meeting this weekend in more friendly terms."
A storm packing winds in excess of 100 miles per hour moved across Nebraska, Iowa, Wisconsin and parts of Illinois yesterday, with the National Weather Service classifying the storm as "derecho."
There was certainly a lot of devastation, Gulke says, but it will take a lot of time to know exactly how big of a bite the storm took out of Iowa's corn and soybean production.
"Certainly, the crop didn't get any bigger except for the fact the storm brought along some rain to places that needed it pretty badly," he says.
Next week the Pro Farmer Crop Tour kicks off and will cover eight key corn- and soybean-growing states. 
"I expect them to validate record yields in Illinois, South Dakota and Minnesota," Gulke says. "I don't know about Nebraska, as yields there may be good but not record. I'm anxious to see whether they feel like I do where I'm just awed by such an amazing soybean crop. Soybeans may have the potential to be even higher than USDA's projections."
Join us virtually for the 28th Annual Pro Farmer Crop Tour, which is part of Farm Journal Field Days. This event will provide you with opportunities to learn more about the expected 2020 corn and soybean yields. Register now!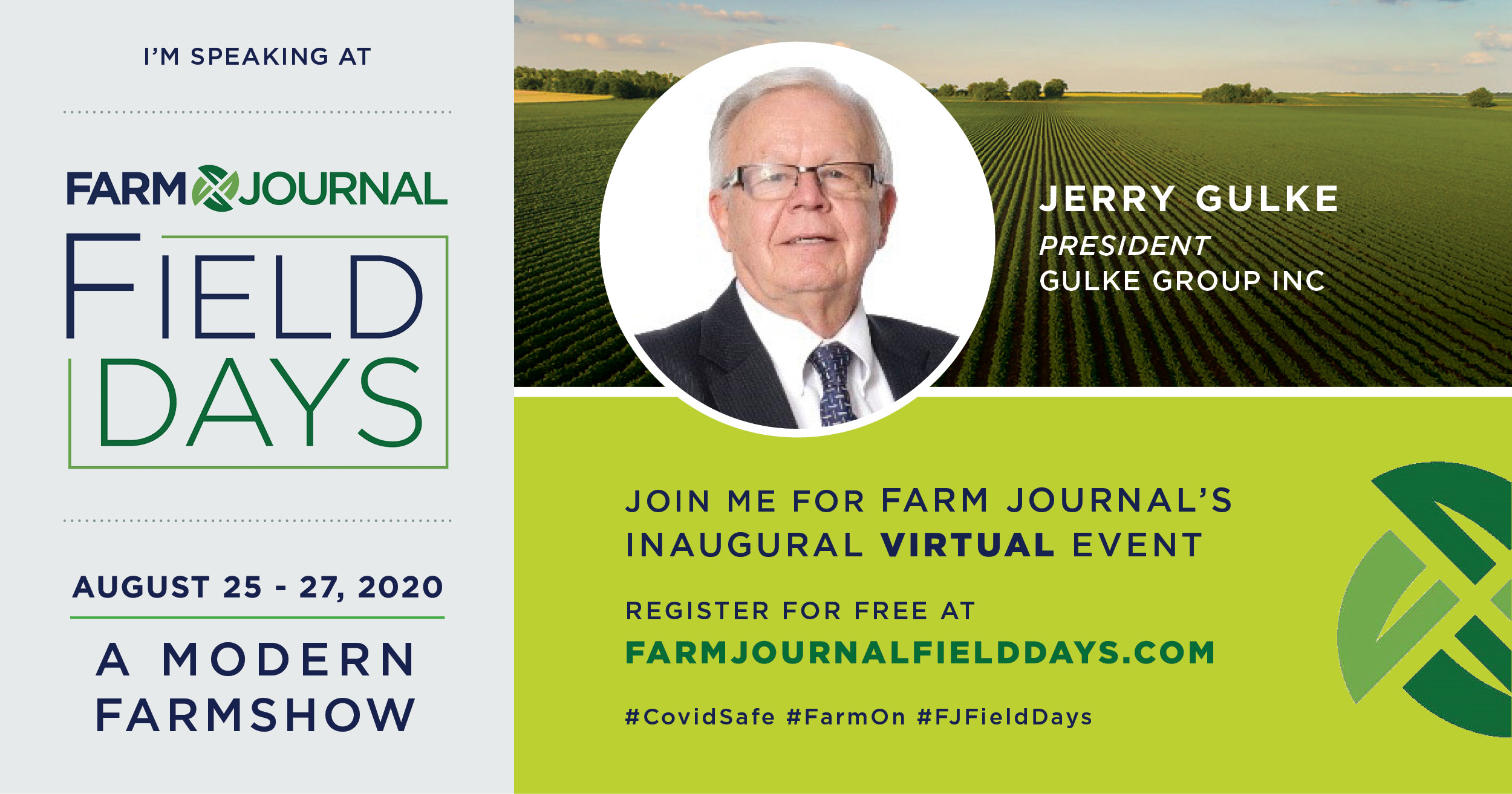 Read More
Corn Futures Jump on USDA Reports

Crop Tour 2020 is On, Virtual Meetings Open to All
Jerry Gulke: Will USDA Report Cause Pre-Harvest Lows?
Find more written and audio commentary from Gulke at AgWeb.com/Gulke
Check the latest market prices in AgWeb's Commodity Markets Center.
Jerry Gulke farms in Illinois and North Dakota. He is president of Gulke Group. Disclaimer: There is substantial risk of loss in trading futures or options, and each investor and trader must consider whether this is a suitable investment. There is no guarantee the advice we give will result in profitable trades. Past performance is not indicative of future results.