Ample rain causing good spots to grow and dry spots to shrink is sending grain prices lower. December corn prices were down 8¢, November soybeans up nearly 7¢ and September wheat was down 8¢, for the week ending July 31.
"This week's weather didn't create less bushels, it created more," says Jerry Gulke, president of the Gulke Group.
Check out the observed rainfall since July 24: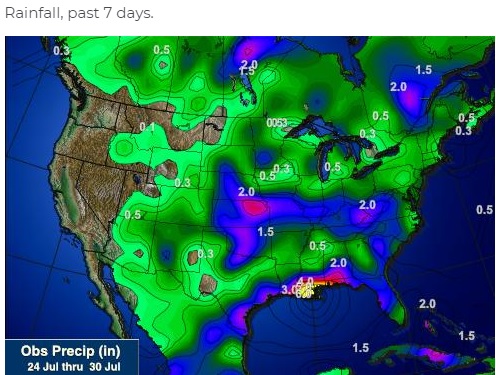 "Now the question some folks have is how much higher will USDA go in their yield projections in the Aug. 12 crop report?" Gulke says. "When you talk to other farmers, generally speaking, they're really pleased with their crop reports in the field. I don't recall soybeans ever looking this good."
The September corn price is near its low, Gulke notes. Even with China buying of some large amounts of corn, prices have failed to rally back up.
This lackluster response to demand could mean a long-term supply issue, Gulke says. the 5-billion-bushel ethanol mandate in 2005/06 caused corn to blow through a $3 price resistance level. Prices went even higher after back-to-back production problems.
Corn production followed suit. In the U.S., corn production increased from 10.5 billion bushels in 2006 to 15 billion bushels in 2016, meeting the ethanol corn mandate.
"Unfortunately, that time period also brought in competition from other countries and the opening up of CRP acres," he says. "We brought land back into production here and around the world to reward that perceived increase in demand and short supply that we had."
Now, prices have gone full circle. 
"We're right back to where it all started around $3 on corn," he says. "A lot of times grains will return to the scene of the crime, as I say, because the market fulfills that perceived demand. It looks to me the market is looking at the situation and seeing a supply problem."
You can read more of Gulke's long-term marketing thoughts in the July/August issue of Top Producer, which will hit mailboxes on Aug. 8.
Hear Jerry Gulke cover key themes and strategies he's gathered during his career during the Farm Journal Field Days. Register now!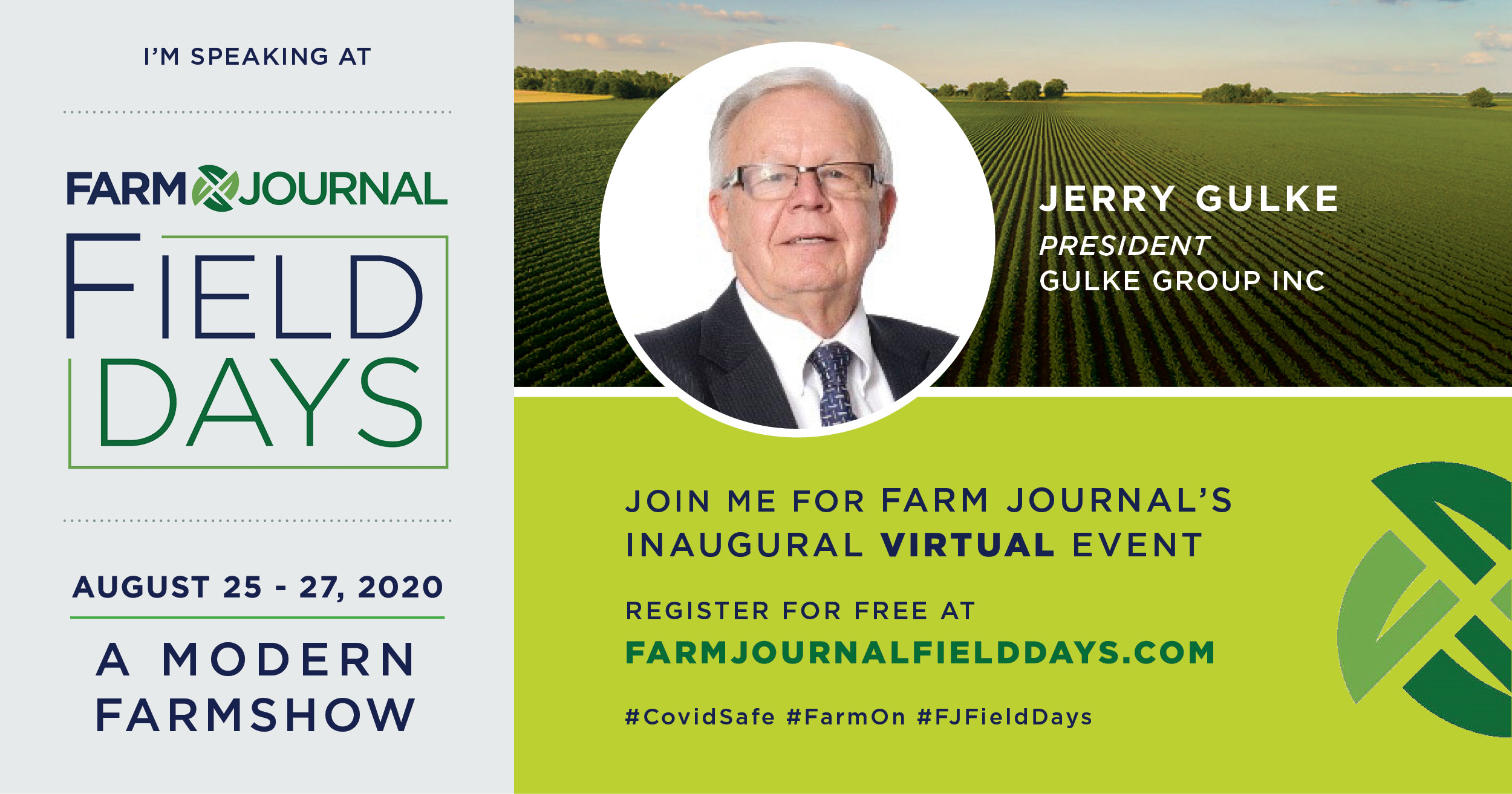 ---
Read More
Jerry Gulke: What Will it Take for Farmers Sell On-Farm Grain?
Jerry Gulke: Will Weather Set the Next Trend?
Jerry Gulke: USDA Report Provides Early Fireworks
Find more written and audio commentary from Gulke at AgWeb.com/Gulke
Check the latest market prices in AgWeb's Commodity Markets Center.
Jerry Gulke farms in Illinois and North Dakota. He is president of Gulke Group. Disclaimer: There is substantial risk of loss in trading futures or options, and each investor and trader must consider whether this is a suitable investment. There is no guarantee the advice we give will result in profitable trades. Past performance is not indicative of future results.