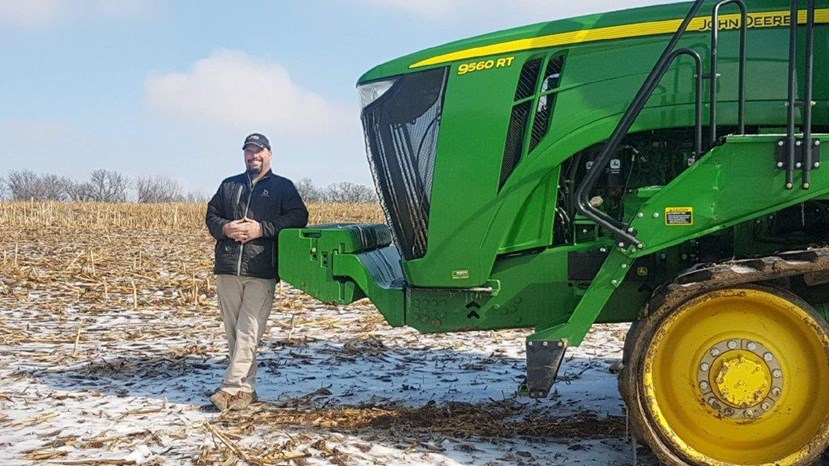 Wading into a dark green soybean sea in early August, Jimmy Frederick smiled and kept his nerve, pretending all he wanted was to push past the century mark. Behind the grin, Frederick hung his hopes on heavy plants hiding beneath a bursting canopy: The field was screaming out 150-plus bu. per acre.
On Oct. 27, 2017, Frederick harvested an outrageous 163.9 bu. per acre across 40 acres of an irrigated 130-acre field. Remarkably, the remainder of the field also held superior yields, averaging over 100 bu. per acre. With intense focus on seed population, spacing and biologicals, Frederick attributes the fall bounty to spring effort. Essentially, he says the booming yields were established when the planter rolled.
Frederick, 36, farms 2,500 acres of corn and soybeans across a mix of terraces, hills and bottom ground, alongside his father, James, in Rulo, Neb., located in the southeast corner of the Cornhusker State. Typically, Frederick's soybean yields bounce from 80-90 bu. per acre on irrigated ground and 70-80 bu. per acre on non-irrigated ground. The record 130-acre field, with gumbo-type soil, produced excellent numbers in the recent past, yielding 96 bu. per acre in 2014.
In 2016, Frederick used a 160,000 plant population across his soybean acreage, but in 2017, he dropped to 145,000, intending to increase lateral branching off the stem and curb the need for the plants to steal from neighbors. On the 130 irrigated acres, he went even lower, dipping to a 115,000 plant population. It was a dollars for dollars trade. "I wanted to cut seed costs and use the money somewhere else to improve yield. I was excited because the money I saved paid for my in-furrow fertilizer and my biologicals," he explains. "Everybody knows the farm economy forces us to cut costs to better ourselves."
Getting a bit of a late start due to weather, Frederick punched ground on May 20, planting into 30" rows. He keeps the specific variety tight to his chest, but says it was a dicamba-tolerant soybean (2.8 maturity group). "Population was extremely important for Jimmy," says Chris Masters, CEO of Biovante. "The lower plant population allowed greater expression of the genetics, and that can add 3 to 4 bu. by itself."
Frederick believes the initial yield key was delivery of biologicals coupled with highly effective machinery. "Everything was right at planting. I used a Precision Planting FurrowJet to put down biologicals in-furrow and out the wings. It was the perfect combination for germination."
Masters is a big proponent of singulation in soybeans and says Frederick's soybeans are a prime example of potential benefits: "If you aim for 1" or 1.5" spacing, you're letting the plants express themselves genetically. Crowd the space and we see minimized lateral branching. You'll get closer internodes, increased lateral branching, and more flowers when you mix the right equipment with the right biologicals."
At season's end, three products made the biggest yield impact, according to Frederick: BioCore, BioMate and Elixor. BioCore is a talc-based seed treatment enhanced with micronutrients and microorganisms. BioMate is a four-sugar food source with two strands of bacteria which feeds soil microorganisms and provides energy to the plant. Elixor (pH neutral), while not a biological, is a systemic fungicide and bactericide intended to boost immunity and preserve beneficial soil microbes around the seed.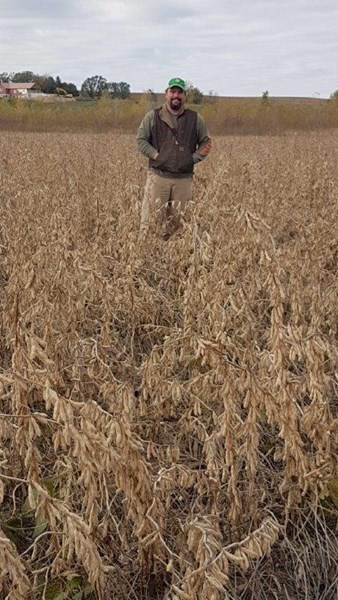 "I spent an extra $2.05 to $2.10 per bushel. Those are not crazy costs, but that's a lot when you don't know the outcome at the end of a season. But I was excited early on because the laterals shot out and there was an unusual amount of blooms after flowering. I knew we had something special," Frederick says.
Nights in the low 70s, 2" of water each week, minimal weed pressure, and consistent sunshine were all significant parts of the yield puzzle. Frederick was a shadow in the field, staying on top of the crop and playing no waiting games: "I walked it all the time and tissue sampled. Bugs were smoked right away. When the beans needed something, I didn't hesitate."
Producer Cory Snethen grows corn and soybeans near Frederick in Richardson County. He says Frederick's 130-acre field is not particularly great ground and attributes the big yield entirely to management: "That dirt isn't the best in the world, but those beans were incredible. I've never seen so many pods. I'm trying biologicals now and I want to see how they improve my farm."
"Jimmy is very aggressive on finding stuff that pays," Snethen continues. "Everybody wants to sell us something, but Jimmy does a great job of actually sorting through and finding return on investment. He'll tell you straight when he's wasting his time, and he'll tell you when you can get money back in your pocket."
Frederick's season-long efforts paid off in October. He rolled into the field and began cutting, stunned by yield monitor numbers that surpassed his highest estimates: "It was unbelievable. I'm sitting there cutting, just blown away by the flashing numbers that were as special as the beans looked."
His only regret? Bushels left in the field. Frederick's 163.9 bu. mark was even more impressive considering lost bushels. Big, woody stems acted like "another set of ratchet bars" according to Frederick, and ground some of the soybeans to powder. Pared down, Frederick thinks double-digit yield numbers slipped away in phantom loss: "We drove as slow as possible, had the concave wide open, and it made no difference. Behind the combine you could see bean hulls all over the ground that didn't make it to the bin, but I'm learning for next year."
Frederick wants to extend biological use and in-furrow treatments across all his acres in 2018: "I'm going to lower my passes, change around product rates, and learn how to do better."
In 2018, Masters intends to steer Frederick toward even lower plant populations: "I'm going to push for Jimmy to go even lower than 115,000; maybe even less than 100,000. We're going to try new things and compare in-furrow versus no in-furrow."
What is Frederick's takeaway lesson from success in 2017? Science works, he says: "Every move counts and I've got so much to learn. The coolest thing is watching science in action in my field and letting the plant act like the genetics intend by tapping into everything from spacing to germination."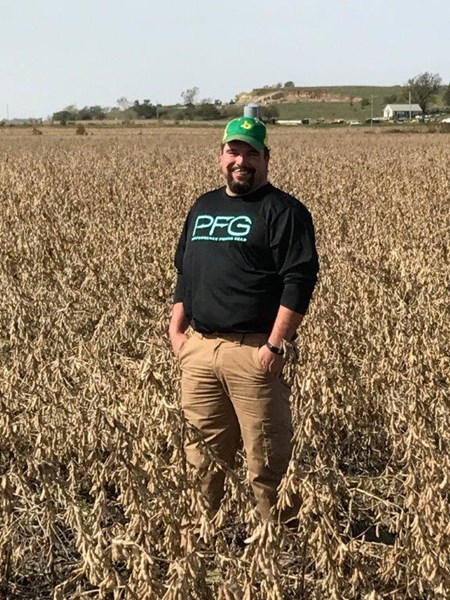 The longer Frederick talks about end-of-season yields, the more he points backward in time to the crucial aspects of planting. He insists his yield numbers began climbing the moment his planter rolled on May 20. "I had the right equipment with the right biologicals. Sure, they work good separately, but put them together and you've got bread and butter."