What the government gets, it keeps—almost. In a stunning end to a surreal landmark private property rights case that tested the bounds of the Endangered Species Act (ESA), federal officials capitulated and walked away from a critical habitat claim on 1,544 acres in Louisiana.
Edward Poitevent has emerged from an eight-year legal saga as the victor in a clash with federal regulators. After a jolting 8-0 Supreme Court decision dismantled the actions of Fish & Wildlife Service (FWS) officials who labeled 1,544 privately held acres as critical habitat for the dusky gopher frog, FWS signed a consent decree on July 3, 2019, removing the critical habitat designation. Cutting through the legalese: FWS waved a white flag and Poitevent maintained full rights to his land.
Eight years of federal agency work and courthouse battles, and presumably millions of taxpayer dollars spent in pursuit of Poitevent's acreage—in the name of an amphibian that does not live on the property or even exist in Louisiana, and could never survive in the current environment of the land in question.
"With courts today, politics wins over reason sometimes, and our case screamed out reason," Poitevent says. "A frog extinct in my state for 50-plus years; a frog that can't even live on the present habitat of my land; millions of dollars to start in restoration fees; and still the government presented all of that as normal, even irrelevant. My hope was pinned on someone taking a rational view and looking at logic: That's what the Supreme Court did and that's why we won in the end."
Representing Poitevent during the long chain of legal battles, Mark Miller, PLF attorney, says beneath all the court wrangling, the case is simple: "Boiled down, this was about the Poitevent family's right to use land they'd owned back to the post-Civil War era. The government was saying, 'Forevermore, you can only use the land like we tell you, but we'll still tax you on it." Poitevent stood up for his rights. It didn't mean he would win, but he forced the government to answer for their actions. Their explanation was hollow and the Supreme Court saw it all the way."
Miller clearly recalls the first time he heard the details of Poitevent's story. "A Mississippi frog with private land set aside in Louisiana? When common sense is missing in a case, that's when I want to be involved. Trials are sometimes morality plays, but the morality often gets pushed aside. Nobody wants to see a species go extinct, but at the same time that shouldn't mean the abandonment of common sense—which happened from day one."
The Ghost Frog
How could a frog that hasn't existed in Louisiana since the 1960s trigger a trip to the Supreme Court?
Rewind eight years.
On May 21, 2011, Poitevent (St. Tammany Parish, located on Louisiana's northern boot tip) got a phone call from FWS personnel, declaring approximately 1,500 acres of his timberland (leased to Weyerhaeuser) as prime ground for the Mississippi gopher frog. At the time, the last 100 gopher frogs in existence were in Mississippi, the final remnant of a population that once spread across several Southern states. However, the reclusive, 3" gopher frog hadn't been seen in Louisiana since 1967, according to the Department of Interior (DOI). Not on Poitevent's land; not in St. Tammany Parish; and not within Louisiana borders.
FWS' position in a capsule: Since the gopher frog may have been seen on Poitevent's land more than 50 years in the past, the acreage would become a haven of gopher frog restoration.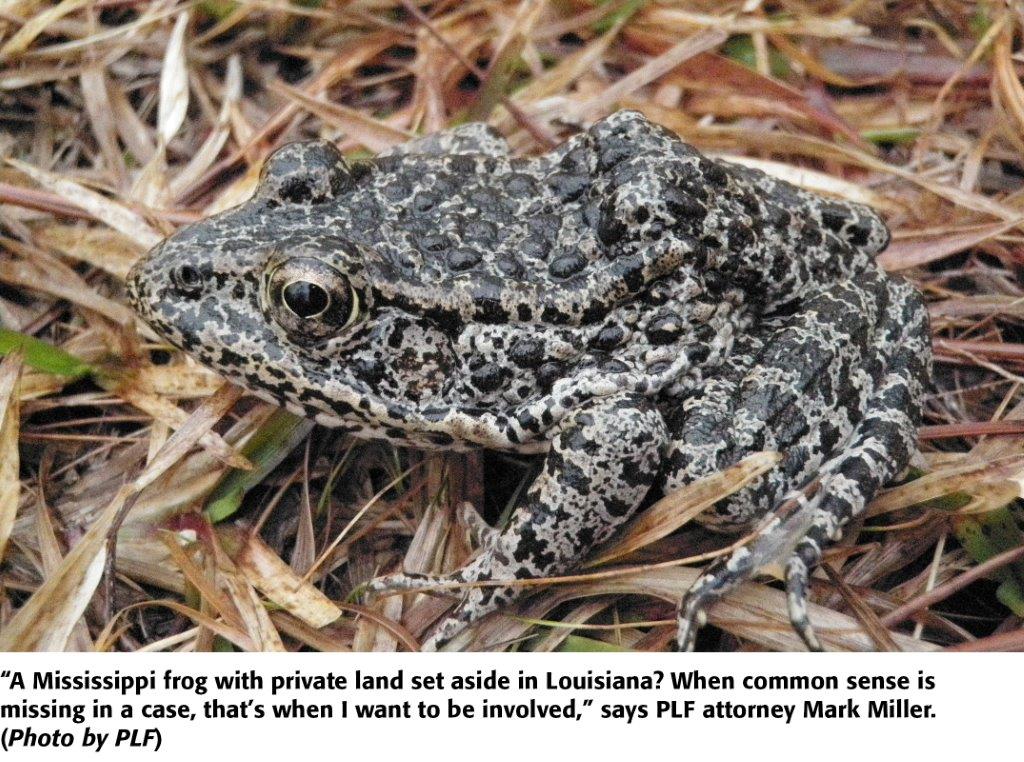 Poitevent was shocked. Although the last 100 gopher frogs were located over 80 miles away in Mississippi, and there hadn't been a gopher frog seen or heard in Louisiana since the 1960s, FWS placed his acreage in the crosshairs of critical habitat—even while admitting the land was unsuitable for the gopher frog's survival. (At a minimum, Poitevent's land would need to be clear cut, replanted with longleaf pine, and consistently managed with controlled burns.) Facing a restriction on land development, and an estimated $34 million long-term loss in value potential, according to a FWS economic study, Poitevent told FWS officials from the get-go that his land would not become a frog refuge. FWS had no power to introduce the frog species on Poitevent's land or force him to make environmental restorations to accommodate the creature—but the agency had the power, without paying a penny in compensation, to make what would essentially be a hollow critical habitat designation, ensuring Poitevent could never freely develop his own land.
Despite full knowledge that Poitevent wouldn't pay for restoration or allow reintroduction of the frog on his property, and aware of the results of its own economic study, FWS proceeded with the critical habitat designation. In 2012, FWS officially marked 6,477 total acres as critical habitat for the Mississippi gopher frog, including Poitevent's and Weyerhaeuser's 1,544 acres of Louisiana ground. Significantly, FWS removed the geographic inconvenience of "Mississippi" from the frog's title, and changed its name to "dusky gopher frog." By fiat, FWS created a paper refuge, all the while knowing the frog would never live on Poitevent's land. The critical habitat designation on Poitevent's land was entirely meaningless to the survival of the frog—yet FWS plowed forward.
(FWS was contacted by Farm Journal, but declined interview requests related to Mississippi gopher frog litigation.)
The Bounce
Backed by the PLF, Poitevent took his fight to court, convinced the critical habitat designation would be lifted when the facts were laid bare. However, Poitevent's case bounced through the court system, denied by Chevron deference and lower court rulings upholding the critical habitat designation. Even though Poitevent was denied, several judges in the chain revealed alarm over the implications of federal action.
U.S. District Judge Martin Feldman upheld FWS' position, but the text of his ruling was plain: "The court has little doubt that what the government has done is remarkably intrusive and has all the hallmarks of governmental insensitivity to private property."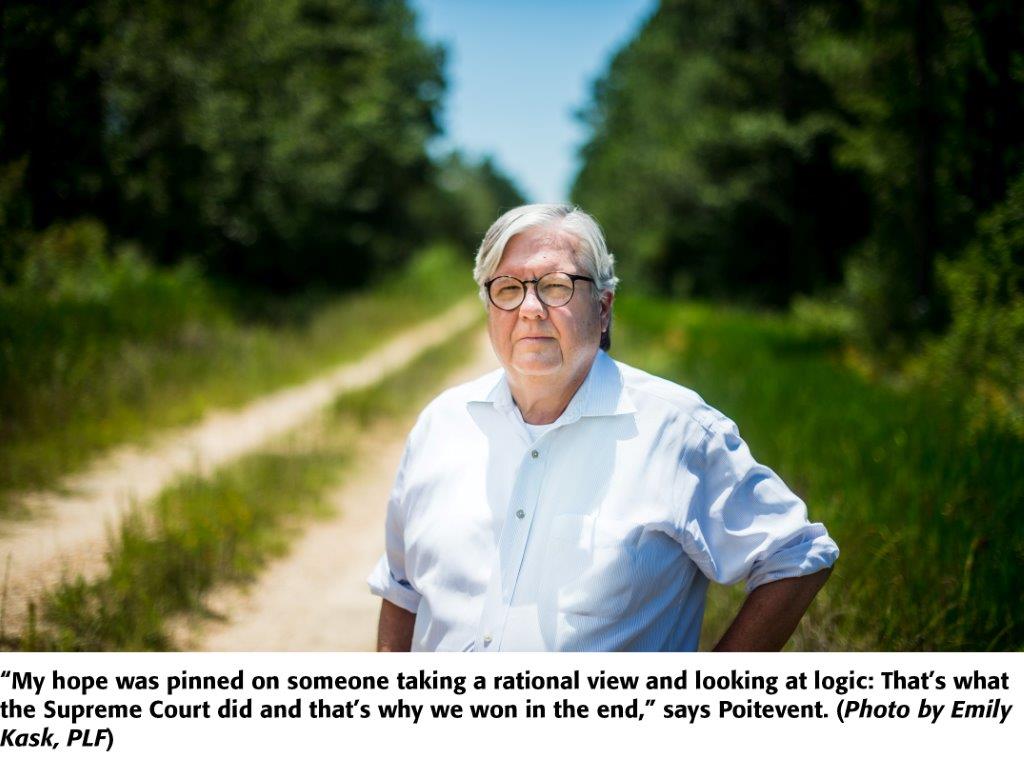 U.S. Circuit Judge Edith Jones, in dissent from the Fifth Circuit's en banc decision against rehearing the case, wrote: "The ramifications of this decision for national land use regulation and for judicial review of agency action cannot be underestimated."
As legal options dwindled, Poitevent's confidence was bolstered on Jan. 22, 2018, when SCOTUS agreed to review the case and later scheduled Weyerhaeuser v. U.S. Fish and Wildlife as the kick-off for the fall term. Literally, Poitevent was at the front of line, on the cusp of a hearing before the highest court in the land.
The Black Robes
However, by the time Poitevent's case time arrived in the fall of 2018, Washington, D.C. was in the throes of a circus, with SCOTUS dead-center of the ring. Earlier in July, Justice Anthony Kennedy retired, opening the door on Brett Kavanaugh's nomination—and a delayed vote. With Kavanaugh in limbo and unable to participate, the possibility of a conservative-liberal split on Poitevent's case was a reasonable projection, i.e., a 4-4 vote. (A split would lead either to a rehearing or a government win.)
On Oct. 1, following SCOTUS' traditional opening ceremony bathed in heavy pomp and circumstance, Poitevent was first out of the gate as the frog feud details spilled out before the black robes. "Immediately, within a minute, questions were coming from all sides," Poitevent describes. "It was organized chaos."
An eight-year legal war was distilled into an hour of argument, 30 minutes for both sides, plaintiff first—before the final whistle blew. "I felt like things went really well during the hearing, but I also walked out thinking they would vote 4-4 based on their judicial philosophies."
One month later, waiting on a decision, Poitevent received an email from a SCOTUS clerk directing him to an attached pdf. With a click, he opened the document and stared in surprise as his eyes soaked in the text of the SCOTUS ruling. In minutes, his phone was hammered with incoming calls and texts. 8-0, all in favor of Poitevent. Eight justices from both sides of the political aisle in unison? "It was unreal," he recalls. "Conservative and liberal justices—they could all see the story was preposterous and all of this had been pushed by zealots."
Jaws of a Lion
The SCOTUS decision was a resounding win for Poitevent and placed him in the driver's seat, reversing the lower court decision, and sending the case back to the Fifth Circuit Court of Appeals. The 8-0 ruling intimated FWS had the cart before the horse: Before labeling land as critical habitat, a determination must be made as to whether the property even meets the requirements of habitat. Therefore, if the property doesn't meet the requirements of basic habitat, all further pursuits are moot.
"Justice Roberts made a grammatical point that 'critical' is an adjective modifying the noun 'habitat.' I think SCOTUS was sending a clear message that the lower court and FWS had gotten this wrong and they needed to basically start over," explains Miller.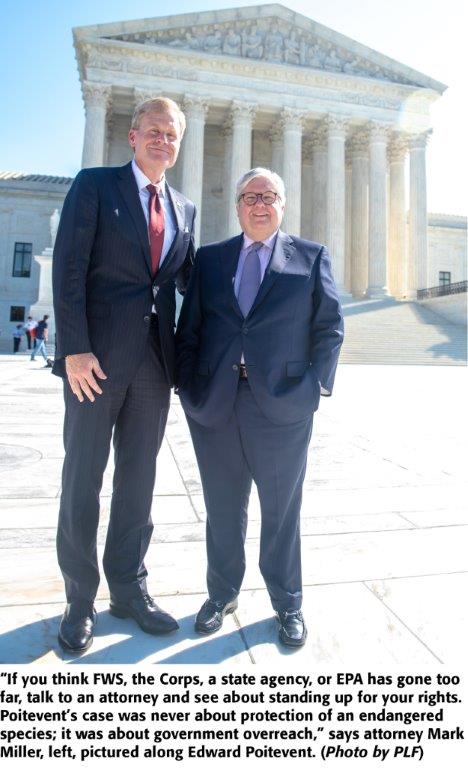 The Fifth Circuit, after receiving the case again from SCOTUS, passed it back to Judge Feldman. Initially, DOJ lawyers requested the entire legal package go back to FWS for another habitat determination—and one more bite at the apple. Poitevent was incensed: "I felt like we were going back to the lion's den. I was afraid FWS would try to make some tweaks with the benefit of hindsight and try to run over me again."
"They'd already determined it wasn't habitat for the frog, and that is repeatedly in the record over eight years of litigation. I thought FWS might try some hocus-pocus and declare the land as suitable habitat, and then we'd be right back at the beginning."
On Good Friday, March 30, 2018, DOJ sent Poitevent's legal team a message signifying a willingness to dismiss. "It was a stunner," he says. "Eight years of fighting and they were suddenly willing to walk away."
Not so fast. As both sides wrote the first draft of terms, DOJ agreed to dismiss the case, vacate the rule—and remand the matter to FWS. "Are you kidding? I can read and I'm not foolish," Poitevent exclaims. "No, no and no. I wasn't about to go right back in the jaws of a lion."
Poitevent was adamant: Either a clean dismissal—or else litigation before a judge.
On the second draft, DOJ abandoned any mention of a remand to FWS. "They knew they'd lost and they took their medicine. The story was finally over," he says.
On July 3, 2018, Poitevent, DOJ, and all parties involved in the case signed a consent decree issued by the District Court for the Eastern District of Louisiana. Poitevent's eight-year legal nightmare was over.
Foundation of Freedoms
Poitevent's struggle will echo in the future, and lays down precedent for other ESA cases, Miller explains. "First, landowners and FWS have to cross a bridge on what is critical habitat. Second, this is an example of textualism, where interpretation of law goes according to plain meaning of adjectives and nouns. Third, now if FWS makes an economic evaluation and you think it's ridiculous, you can sue in court and say it's arbitrary and capricious."
Miller urges U.S. landowners to challenge court decisions in cases of federal overreach. "SCOTUS recognizes this and knows private property is the foundation of all our freedoms; take it away and all the other rights crumble. If you think FWS, the Corps, a state agency, or EPA has gone too far, talk to an attorney and see about standing up for your rights. Poitevent's case was never about protection of an endangered species; it was about government overreach."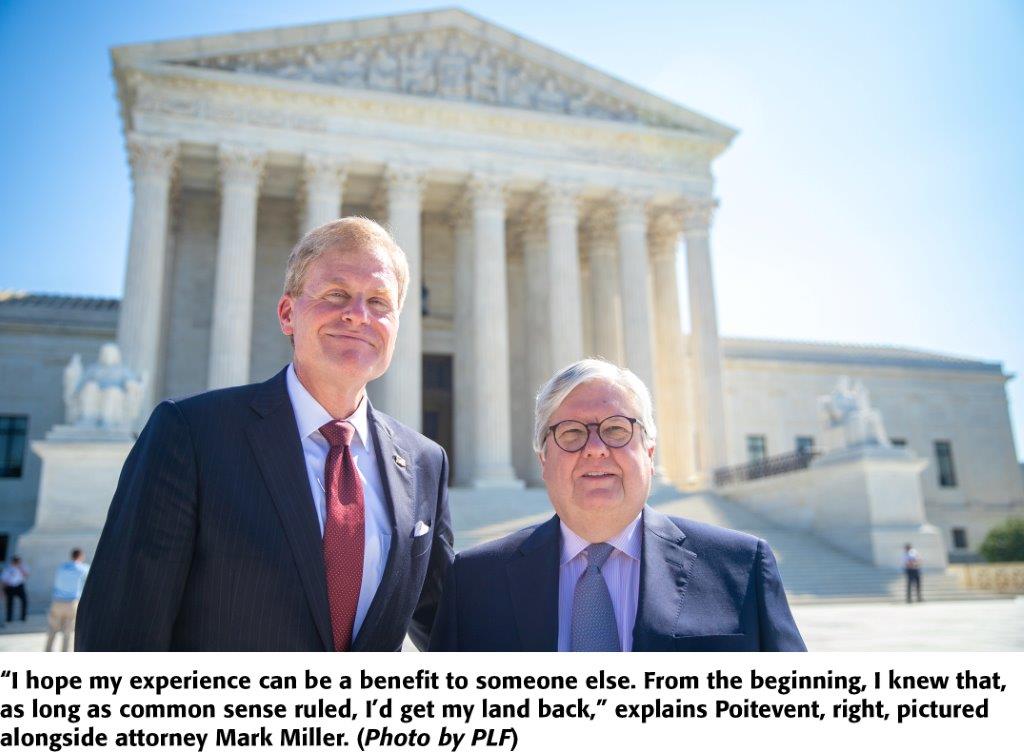 Poitevent emphasizes the "vital" role played by PLF. "What really made this possible was the expertise of PLF and especially the duo of Reed Hopper, who passed in the middle of this case, and his successor, Mark Miller. This stunning victory simply wouldn't have happened without their efforts."
Across eight years of sparring with agency officials and government attorneys, Poitevent answered the bell each round. His story raises fundamental questions about individual rights and federal authority. "I want to tell others who may have similar problems with government action they don't like—whether it's by the FWS, the Corps, a state agency, the EPA, or any other agency—to get good legal advice and not give in just because the government comes knocking. I hope my experience can be a benefit to someone else. From the beginning, I knew that, as long as common sense ruled, I'd get my land back."
For more, see:
Descent Into Hell: Farmer Escapes Corn Tomb Death
Against All Odds: Farmer Survives Epic Ordeal
Killing Hogzilla: Hunting a Monster Wild Pig
Breaking Bad: Chasing the Wildest Con Artist in Farming History
Blood And Dirt: A Farmer's 30-Year Fight With The Feds
Future Shock: Farmers Exposed By US-China Long Game
Wild Pig Wars: Controversy Over Hunting, Trapping in Missouri
Agriculture's Darkest Fraud Hidden Under Dirt and Lies
In the Blood: Hunting Deer Antlers with a Legendary Shed Whisperer