The optimism lenders were seeing for the rural economy has evaporated, according to the Rural Mainstreet Index (RMI). The monthly survey of bank CEOs in a 10-state Midwest region sits at 35.5 for March 2020.
In February, the RMI was at 51.6, which posted the sixth straight month of economic growth. The index ranges between 0 and 100, with 50 representing growth neutral. 
March's decline represents the largest one-month fall since the survey was initiated in January 2006.
"Approximately 61.3% of bank CEOs expect the coronavirus to produce a recession in their market area," says Ernie Goss, who chairs Creighton's Heider College of Business and leads the RMI. "However, 32.3% expect little economic impact from the coronavirus threat."
Bankers respond to key issues:
Does your bank have a plan in place to deal with a nationwide mandatory quarantine?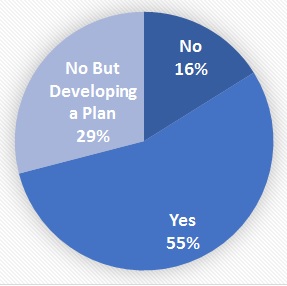 More than half of bankers indicated their bank had a disaster plan to deal with the coronavirus, while 29% reported their bank was developing such a plan.
Which of the following outcomes do you expect from the coronavirus in your market area?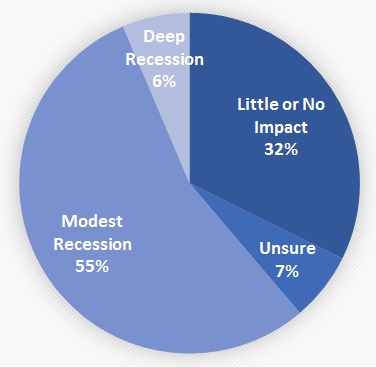 More than six of 10 bank CEOs expect the coronavirus to push their local area into a recession. However, not all banks experienced impacts. 
"Our rural area has not been directly impacted by the virus as of yet," reports Don Vogel, CEO of Farmers National Bank in Phillipsburg, Kan.
"Our bank location is in a smaller town and less influenced by consumer traffic as we primarily finance farm operations," adds Marc Lamon, branch president of FirsTier Bank in Kimball, Neb.
During the past two weeks of the coronavirus crisis, your bank has experienced (select all that apply):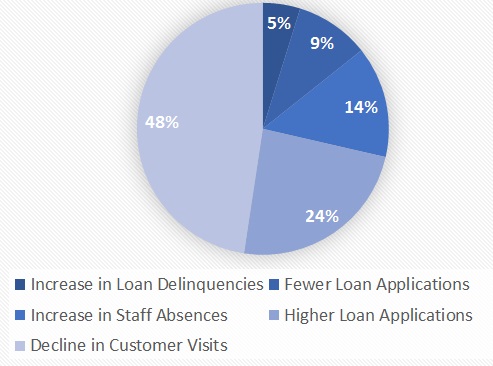 Around 14% of banks reported an increase in staff absences due to the coronavirus, and nearly half of banks have had a decline in customer visits. Almost 25% of lenders indicated their bank had experienced higher loan applications resulting from the coronavirus threat. 
  
The farmland and ranchland-price index for March dipped to 46.6, from February's 46.8. This is the 75th time in the past 76 months the index has been below growth neutral.
The confidence index, which reflects bank CEO expectations for the economy six months out, plunged to 28.3 from February's healthy 58.1. March's reading represented the greatest one-month decline in the confidence reading since the survey was initiated in 2006.
This RMI, which started in 2005, represents an early snapshot of the economy of rural agriculturally and energy-dependent portions of the nation. It focuses on 200 rural communities with an average population of 1,300. 
 
Read More
Rural Bankers' Economic Confidence Hits 7-Year High
Rural Mainstreet Index Hits Its Highest Level for 2019
Rural Bankers: 18% of Grain Farmers Facing Negative Cash Flow
Meet the man behind the Rural Mainstreet Index: Ernie Goss.