With the economy shut down and packing plants across the U.S. shutting their doors, corn and soybean commodity prices aren't immune. Economists at the University of Illinois are tracking where prices were projected to be in the marketing years 2019, 2020 and 2021, and where they are expected to fall in a post-pandemic world.
As a reminder, market year average prices are based on prices received from the months of September 2019 to August 2020 (2019 MYA), for example. These are national, cash prices and the same prices used for commodity title payments.
"For corn, the post COVID-19 prices are $3.50 per bu. for 2019, $3.20 for 2020 and $3.40 for 2021," according to of University of Illinois FarmDoc. That's a drop of 9.1%, 13.5% and 5.6%, respectively.
"These prices are roughly consistent with a major recession occurring because of COVID-19 control measures, resulting in losses in corn demand from ethanol and reduced demand for corn in livestock feeds, leading to much lower corn prices in 2020," the FarmDoc report continues. The 2021 marketing year shows a smaller decline because economists expect the economy to begin recovering.
Soybean reaction smaller
Compared to corn, the drop in soybean prices isn't quite so dramatic. Because of corn uses, including ethanol, it has had stronger reactions to COVID-19 and is bearing the brunt of the damage to prices.
Post-COVID-19 prices for soybeans are expected to fall at $8.50 per bu. in 2019, $8.20 in 2020 and $8.30 in 2021. This represents a 2.9%, 6.8% and 4.6% drop, respectively.
Check out FarmDoc's chart below for more details on price changes.

All crops impacted by COVID-19
It's not just corn and soybeans feeling the effect, many crops have seen price changes since February. Here's WASDE's April estimates of MYA prices for various crops:
$4.60 per bushel for wheat, an increase of 1.1% from the February price of $4.55,
$59 per cwt for cotton, a decline of 4.8% from the February price of $62 per cwt,
$3.25 per bushel for sorghum, a decline of 3.0% from the February price of $3.35,
$4.60 per bushel for barley, the same as the February price,
$2.85 per bushel for oats, a decline of 3.4% for the February price of $2.95 per bushel, and
$13.20 per cwt for rice, an increase of 1.5% from the $13 per cwt February price.
Here's another chart from FarmDoc with more detail on recent price changes.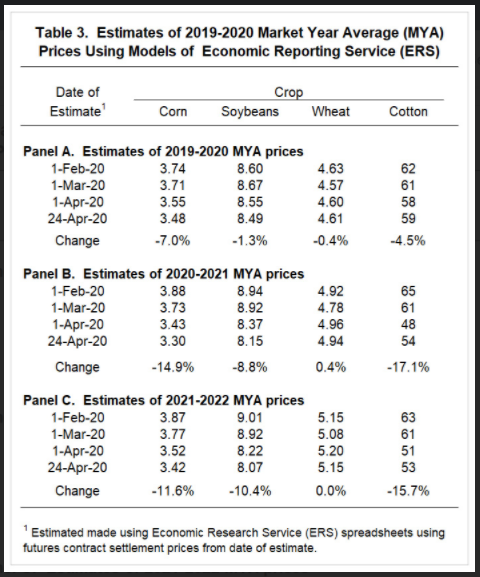 Read more markets news: