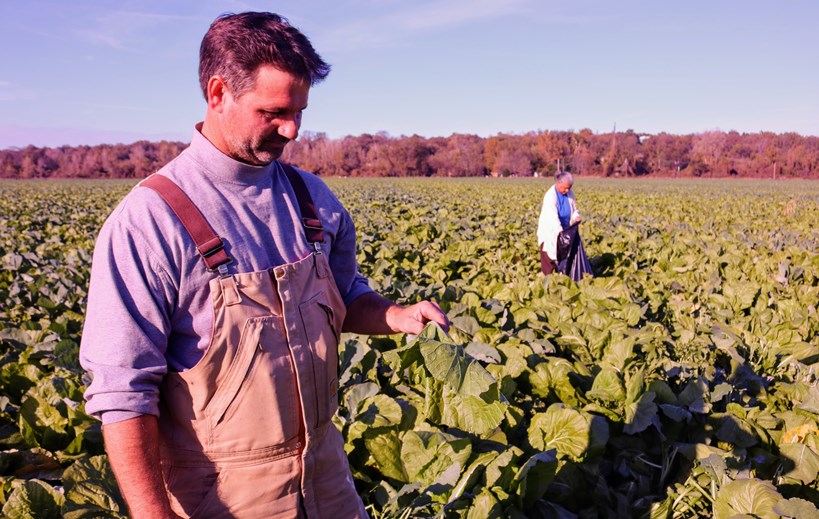 Bright lights, big field. Mikey Taylor drives around a bend, heading home at 7:30 p.m. on a fall night, and spots four lights glowing in the ink, 40 yards into a field fronting his Delta farm. In the darkness, armed with flashlights, garbage bags, and cardboard boxes, a quad of pickers is in action, pulling his crops and carrying away the plunder. Taylor, 39, chuckles and keeps driving. He has watched pickers all his life, but has never seen anything to rival the gleaning swarm of 2017.
When Taylor planted a cover crop mix across a massive field on Sept. 10, he turned the soil into a sea of greens. Initially expecting a few pickers to find the kale and mustard, he was shocked when several thousand people arrived and carried away a haul of greens. Through word-of-mouth and social media, Taylor's 110-acre block of cover crops has attracted pickers from multiple states and yielded a bounty of blessing.
Taylor's farmland rubs against the Mississippi River in southeast Arkansas' Phillips County. On a sunny fall afternoon, the 110-acre field, bordered by a pecan grove, tells a tale. Twenty-five vehicles are parked on the shoulder with a revealing list of license plates: Arkansas, Mississippi and Tennessee.
The pickers are of one accord: They've never encountered 110 acres of greens in one spot. Mattie Wright, Tunica, Miss., has picked greens for 30 years: "I've never seen anything like this. I've never heard of one this big."
Likewise, Mary Thomas, Helena, Ark., is in awe. "I can't remember a field even close to this in the Delta. I'm just grateful to the farmer for letting us have these greens. It's a real blessing," she says.
"Some days about 100 people stop by to pick," Taylor says. "At first, I didn't realize folks even knew about the field, but I got calls from friends driving by asking me what was going on with all the people. Word got spread by Facebook and pretty soon it was on."
Per acre, Taylor planted 10 lb. of black oats, 15 lb. of Austrian winter peas, 1.5 lb. of mustard, 1.5 lb. of kale, and 1.5 lb. of tillage radishes. Taylor first began planting cover crops in 2015, solely for erosion protection. He transitioned to soil health covers, and recently to grazing covers in tandem with cattle rotation. On Taylor's ground, livestock are the vehicle to building high-potential soils. "I treat my covers like row crops because my cows depend on them and so does my ground," Taylor says.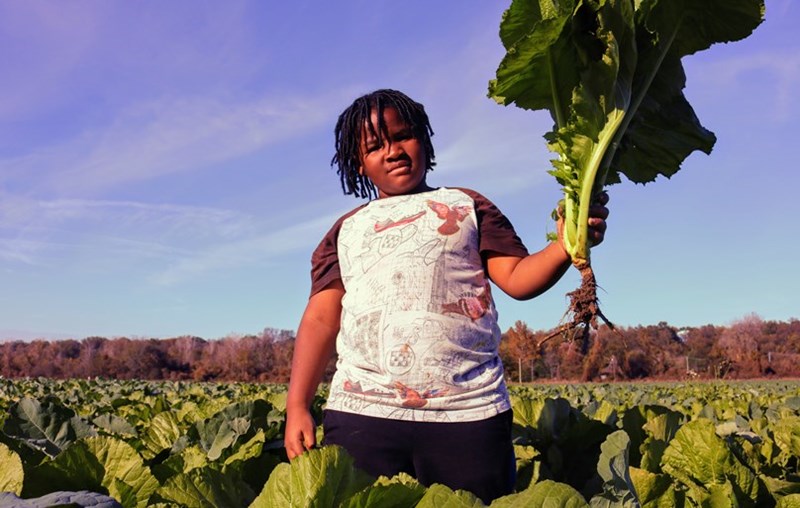 Typically over winter, Taylor runs 100-head of cattle on five to seven acres of cover crops for 24 hours and moves the herd each day to a new spot. Once grazed, an acre is usually ready for rotation again in 40 days. However, the 110-acre field's cover crop buffet is untouched by livestock. Located directly beside the highway, the logistics are poor for grazing—but ripe for picking. "The only thing I ask is for people not to drive vehicles into the field. Otherwise they're welcome and the greens should stay good until about February," he says.
Rev. Danny Robinson has lived beside the 110 acres for 20 years and calls it a "once-in-a-lifetime" field. "I tip my hat to the Taylors and thank them. We've never seen someone plant this many greens in one field, ever. I thank God for this special blessing for our community, entire county and beyond. People have to see what's going on out here to really appreciate this huge field."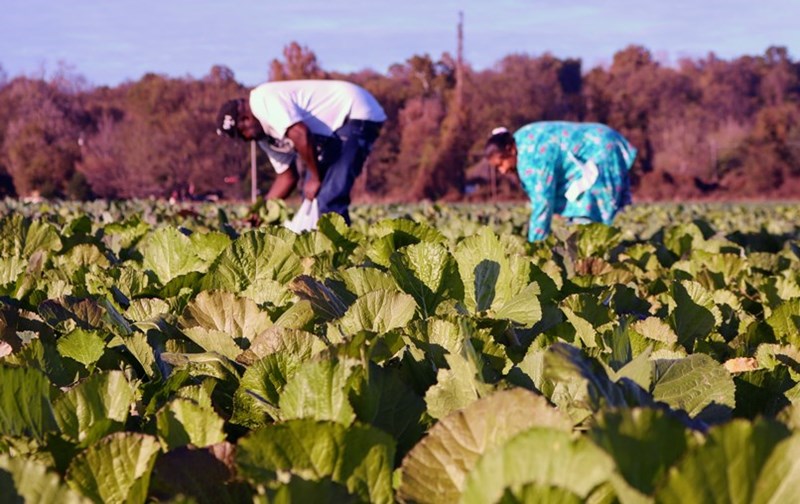 "It's true," Taylor adds. "It's something else when the vehicles are lined up and the field is full of people. Once you see it, you won't forget it."