For 2019, Iowa's average farmland is valued at $7,432 per acre. That's an increase of $168, or 2.3%, from 2018 farmland values, according to the 2019 Iowa State University Land Value Survey.
"This represents roughly the second rise in the past six years," says Wendong Zhang, assistant professor of economics at Iowa State University and the lead for survey. "I would hesitate to label this as a quick rebound in Iowa, as a 2.3% increase is still quite modest – it just barely exceeds the rate of inflation."
Zhang reports the increase for Iowa land values reflects a lower interest rate environment and slowly improving U.S. farm income. Survey respondents reported the following positive factors for farmland values: 
Favorable interest rates
Limited land supply
Strong crop yields
Negative factors influencing land values include lower commodity prices, the weather and tariffs on agricultural commodities.
"We are still faced with significant uncertainty, especially the ongoing U.S.-China trade war, which has significantly affected U.S. agricultural exports, especially soybean exports, and lead to lower commodity prices and weaker farm income," Zhang says. "The future of farmland market still hinges on the pace and speed of Federal Reserve moves on interest rates, progress in the trade talks, and the availability of land parcels."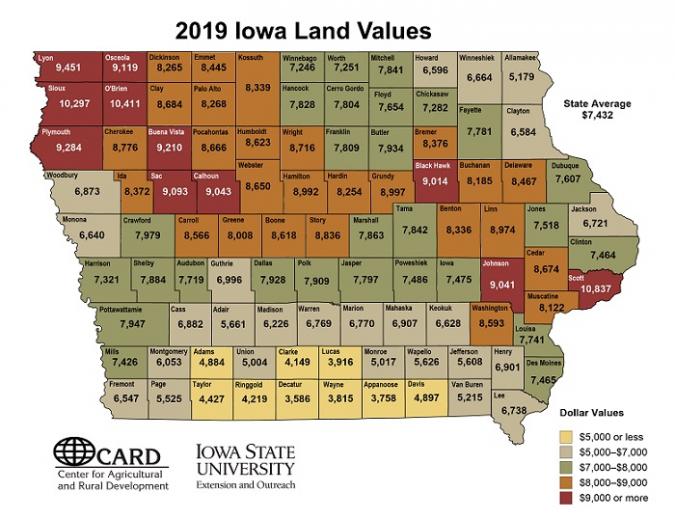 Source: 2019 ISU Land Value Survey
Location, Location, Location
Of Iowa's 99 counties, 82 reported higher land values, with the remaining 17 decreasing in value. For the seventh consecutive year, Scott and Decatur counties reported the highest and lowest values, respectively:
Scott County reported a value of $10,837 per acre, a gain of $300, or nearly 3%.
Decatur County reported a value of $3,586 per acre, a gain of $97, or nearly 3%. 
Boone and Story counties reported the largest percent increase at 5.4%. Story County also saw the largest dollar increase by county at $455 per acre. Clay and Allamakee Counties reported the largest percent decrease—both showed a 2% loss since 2018. Clay County reported the largest dollar decrease in values at $151 per acre.
To understand the farmland market, Zhang suggests this equation:
Land Values = localized net income / universal interest rate
"If federal reserve continues to cut the rates, that tends to provide more support for the land markets," he says. "Slowly we're seeing income rising in the U.S. ag sector, but farm income tends to be localized."
This can explain some of the regional changes in Iowa.
Quality Still Wins
All quality classes of Iowa farmland increased in 2019 versus 2018. Strong recreational demand, Zhang says, helped lift low-quality land by 3.3%.
Here are the statewide averages for land by quality:
Low-quality land averages $4,759 per acre, a 3.3%, or $150 per acre, increase.
Medium-quality land averages $6,938 per acre, an increase of 2% or $133 per acre.
High-quality land averages $9,078 per acre, an increase of 2.4% or $215 per acre.

The ISU Land Value Survey was initiated in 1941. It is based on reports by agricultural professionals knowledgeable of land market conditions, such as appraisers, farm managers, agricultural lenders and actual land sales. The 2019 survey is based on 679 responses from 553 agricultural professionals. 
Read More