The grain markets took sizeable hits this week. December corn prices were down 6¢ and November soybean prices down nearly 25¢ for the week ending Aug. 7. September wheat prices were down around 35¢.
"Wheat has been in a collapsing mode, and we talked last week that soybeans probably had the biggest chance of getting hurt the worst because they had climbed to the highest level since phase one was issued in January," says Jerry Gulke, president of the Gulke Group.
Since the beginning of the 2020 season, Gulke says, the big question has been: Are we going to raise more than what we can possibly sell to China, and will the carryover rise?
"I think that story has been written into the downtrend in beans," he says. "Soybeans have a chance to get hurt the last two weeks in August if it gets extremely hot. But right now, soybeans have broken all of the minor price support."
The market reaction is a classic story of expected supply and demand.
"The price discovery system says if you've got too much of something, you seek a level to buy more demand or curb production," he says. "We're not finding sufficient demand."
Two important price-moving factors are ahead – the next trade meeting with China and the Aug. 12 reports, along with August weather. 
On Wednesday, Aug. 12, USDA will release its monthly Crop Production and World Agricultural Supply and Demand Estimates. Gulke has the high crop ratings this year could cause USDA to increase the national average corn yield.
"I doubt you're going to see the extent of some of the private estimates of 180 bu. per acre to 184 bu. per acres," he says. "I'm not saying that probably isn't in the cards because it is one good looking crop. But I think they raise it 1.5 bushels and kind of kick the can down the road."
Gulke's advice for farmers heading into the report: Stay flexible and realistic. 
Hear Jerry Gulke cover key themes and strategies he's gathered during his career during the Farm Journal Field Days. Register now!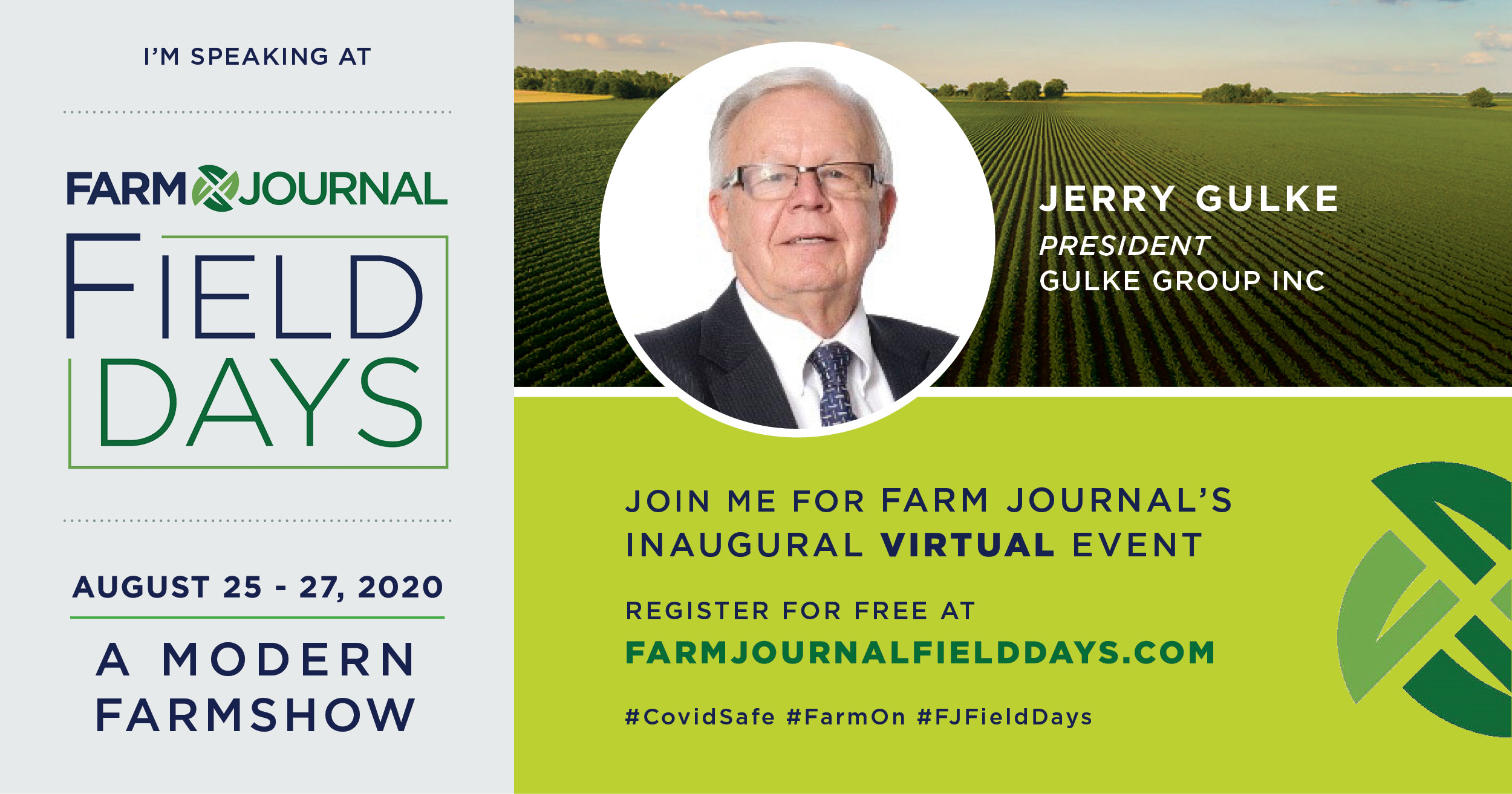 Read More
Jerry Gulke: What Will it Take for Farmers Sell On-Farm Grain?
Jerry Gulke: Will Weather Set the Next Trend?
Jerry Gulke: USDA Report Provides Early Fireworks
Find more written and audio commentary from Gulke at AgWeb.com/Gulke
Check the latest market prices in AgWeb's Commodity Markets Center.
Jerry Gulke farms in Illinois and North Dakota. He is president of Gulke Group. Disclaimer: There is substantial risk of loss in trading futures or options, and each investor and trader must consider whether this is a suitable investment. There is no guarantee the advice we give will result in profitable trades. Past performance is not indicative of future results.