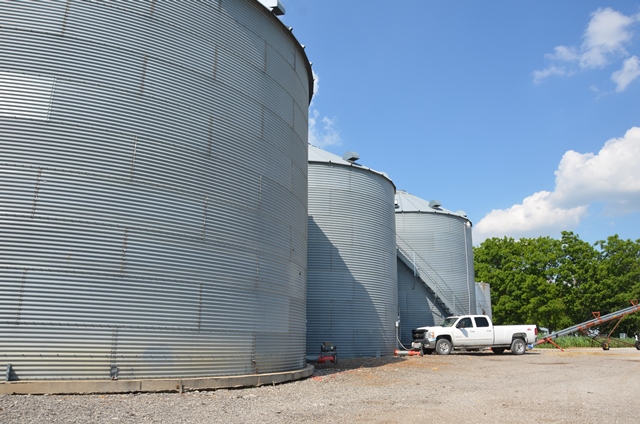 When harvest is in full swing it's easy to overlook safety precautions in the interest of time, but that's no excuse. No amount of bushels is worth a life, take time to be safe while working on or near grain bins.
The University of Illinois Extension outlines practical grain bin safety tips every farmer can follow:
Break up crusted grain with a long pole from outside the bin and be mindful of electric lines.
Wear a harness attached to a secured rope if you do enter a bin.
Stay near the outer wall of the bin and keep walking to get to the ladder or safety rope as quickly as possible if grain starts moving and you're inside.
Have at least one other person outside the bin in case you become entrapped. Make sure they're trained on rescue procedures and know the safety procedures and rules for entering the bin.
Anyone working in a grain bin needs to wear a dust filter or respirator.
Stay out of grain bins, wagons and trucks when unloading equipment is running.
If you do enter the bin, make sure all augers and fans are off and locked so they are not accidentally turned on while in the bin.
Keep children far from bins, wagons or trucks.
Install ladders inside grain bins for an emergency exit whenever possible and paint bright stripes so it can easily be located in a dusty bin.
Each year Nationwide provides rescue tubes and training to select fire departments. This year 19 fire departments in 14 states received the tool that can help rescue farmers and farm employees from engulfment. Winners include:
Dyersville Fire Department, Dyersville, Iowa      
Adams Fire Department, Adams, N.Y.
Oldham Fire Department, Oldham, S.D.
Carsonville Fire, Carsonville, Pa.
Sipesville Volunteer Fire Company Inc., Sipesville, Pa.    
Millersport Fire, Millersport, Ohio
Wilmington Fire, Wilmington, Ohio         
Roseland Rural Fire, Roseland, Neb.
McPherson County Rural Fire District #1, Canton, Kan.
Western Greene Fire District, Paragould, Ark.
Mid Piatt Fire Protection District, White Heath, Ill.
Louisville Fire Department, Jefferson, Ga.
Ceylon Fire, Ceylon, Minn.
Westby Christiana Fire District, Westby, Wis.
De Smet Volunteer Fire Department, De Smet, S.D.
Shelby Volunteer Fire Department, Shelby, Mont.
Big Sandy Volunteer Fire Deparment, Big Sandy, Mont.
Kenmare Fire Department, Kenmare, N.D.
Cass Township Volunteer Fire Department, Portsmouth, Iowa