Obliteration. Randy Dowdy just blew the bin doors off soybean yield world records, hitting 190.23 bushels per acre (bpa) on 3.27 acres, and 179 bpa on 4.23 acres. The Georgia farmer broke his previous yield record of 171 bpa, set in 2016.
Dowdy, renowned for outstanding crop yields, including a record 503 bpa corn yield in 2014, says a mix of optimal sunshine, management and soil health contributed to the high soybean numbers in 2019. The Brooks County grower also believes significantly higher yields in the near-future are in the cards, evidenced by a particular acre with a phenomenal 224 bpa.
On March 20, Dowdy planted into sandy loam and clay-based soils with AgriGold G5000 (Group 5) at 125,000 population, and followed on another farm with a Hefty 49X7S (Group 4.9) at 130,000 population on April 10. Emergence, he recalls, was superb. "The big thing that separates beans early is the quality of the seed treatment. Renwood Farms' RenPro Plus, AgriGold's AgriShield Max and Hefty's Complete premium seed treatments are very good and are examples of quality seed treatments one should consider."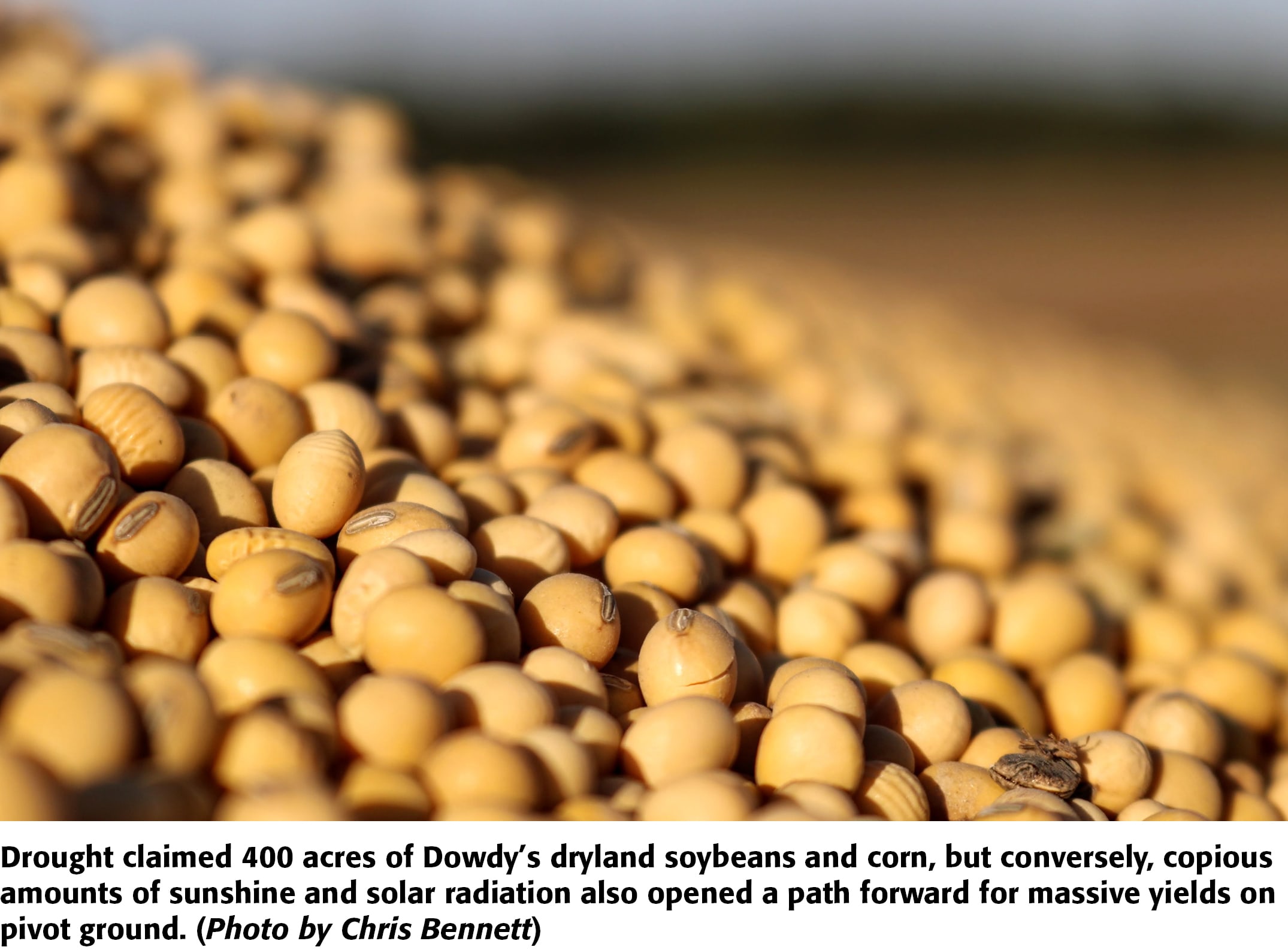 "When they break ground, those first leaves, cotyledons, usually will start to senesce by V3. We keep our cotyledons to V9-V10, and that is a sign of early season strength and plant health. When we see that, we know we're heading toward good yields and that begins with seed treatments."
Early stand establishment was followed by consistent pivot irrigation due to a six-week drought and heat stress. Other management consisted of an assortment of Brandt, ROI Biologicals, Hefty, and BASF products, Dowdy notes: "We used Extend technology to manage weeds, foliar fed, put down in-season biologicals, and made sure we didn't get hit with pest issues."
Weather played a major role, according to Dowdy. Drought claimed 400 acres of his dryland soybeans and corn, but conversely, copious amounts of sunshine and solar radiation also opened a path forward for massive yields on pivot ground.
"It turned out to be good weather from the Lord, even though it was a detriment to dryland. I have found no substitution for solar radiation, and I haven't figured out how to buy sunlight in a jug."
With a bounty of lateral branching, Dowdy's soybeans averaged 22-25 fruiting nodes, an amount he attributes to sunlight, row spacing and biologicals.
Stalks were heavy with 5-10 pods per node—3-4 beans per pod. Despite the promise, Dowdy's first 2019 record-breaker lost a good deal of cream off the top: Prior to harvest, Dowdy desiccated the first batch (planted March 20) in mid-August, with a minimal 20% chance of rain on the horizon. An anxious 8-10 days and 5" of rain later, Dowdy rolled through with a combine.
"The quality was dropping fast and the exteriors of the beans were shriveling, hurting protein levels and weight. It was 179 on 4.23 acres and I was sure pumped, but I believe that spot was possibly 200 before the rain. No doubt, we left a lot of yield on the table."
Two weeks later, Dowdy hauled in another record, and far greater numbers. Close to his house, in the same field (treated for several years with chicken litter applications) that shot out 503 bpa corn in 2014, Dowdy cut 2.3 acres and initially was dismayed by 170.4 bpa yield. However, when he moved to the final acre, the intake exploded: 224 bpa. "It's so exciting, and I knew they were good, but it is hard to ever tell yield just by looking. It was a total of 190.23 on 3.27 acres."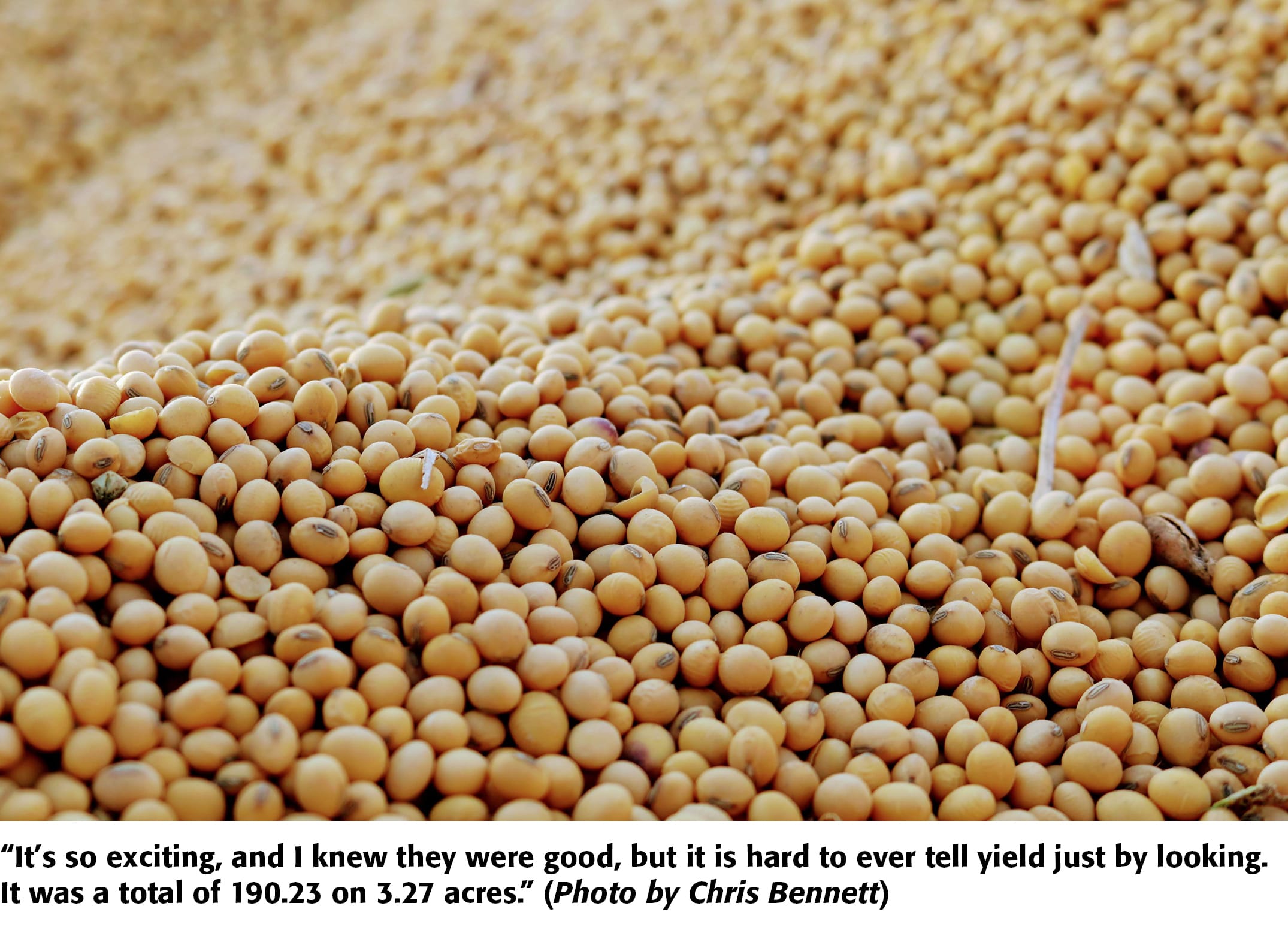 The high yields, Dowdy contends, are an accumulation of teamwork, effort and data. "I give God the credit first and that's what I always know. I'm also blessed with employees and family that worked long hours and took care of pivots and other management tasks."
"On Oct. 3, we're going to go over this all on RFD-TV and go into a few details of the management. A lot of things are coming together and we're getting so much data from Dowdy Crop Innovations and Next Level. We've got our Next Level yield program with 10 camps across the country and three or four more starting this winter. That's providing a data set and teaching other growers, and in turn, I too learn from all of them. This has helped me and everyone because it's a cumulative effect and really great stuff."
"Lord willing, yields are going to keep getting higher on beans because we're all underselling their potential," he concludes. "Get them started right, manage with a purpose, be a student of the crop and watch as the yields continues to climb."
For more, see:
Descent Into Hell: Farmer Escapes Corn Tomb Death
Killing Hogzilla: Hunting a Monster Wild Pig
Breaking Bad: Chasing the Wildest Con Artist in Farming History
Against All Odds: Farmer Survives Epic Ordeal
Blood And Dirt: A Farmer's 30-Year Fight With The Feds
Future Shock: Farmers Exposed By US-China Long Game
Wild Pig Wars: Controversy Over Hunting, Trapping in Missouri
Agriculture's Darkest Fraud Hidden Under Dirt and Lies
In the Blood: Hunting Deer Antlers with a Legendary Shed Whisperer