"Ready?"  Fwump...Crack! 
A baseball flies to the back of the batting cage as Indiana farmer Greg Doms readies another pitch. The smell of rubber and sound of whirring wheels crowd out the cicadas and crickets that typically fill the August air. For a few minutes, the stress of farming, his off-farm job and every other project pressing at the corners of his subconscious mind is drowned out by the simple joy of hitting baseballs in the backyard.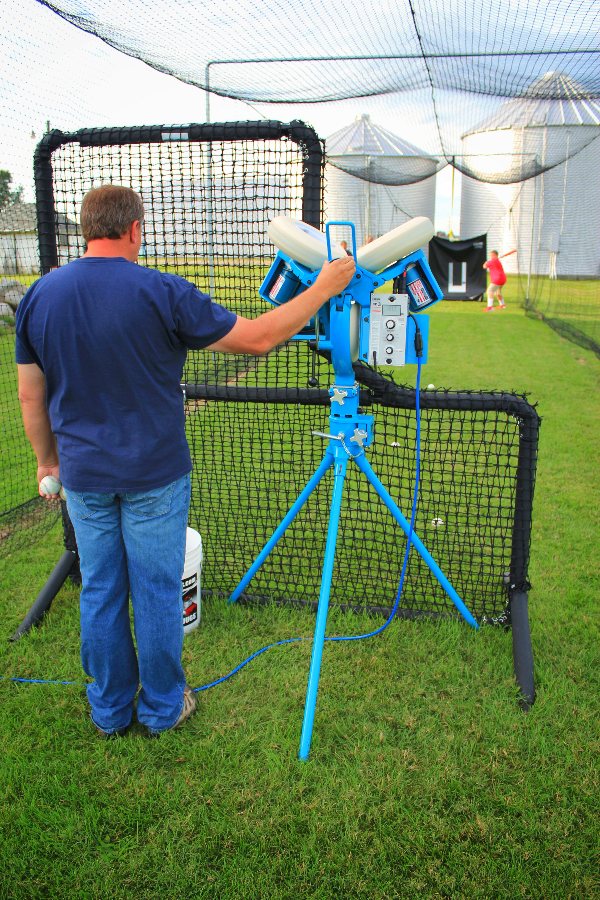 "I certainly enjoy watching the boys swing away," says Doms a husband and father to identical twin boys. "Then, of course, they say Dad, Dad, you gotta try."
This year, spending a few precious moments, bat in hand, has seemed nearly cathartic. 
"I don't know if I'm visualizing Mother Nature on the face of that ball or what," laughs Doms.
​One Tough Spring
His seasonal nemesis nearly put him in the ground his family has been tending for four generations. In June, amid the muck and relentless rains, Greg ended up in the ER.
"I thought I was having a heart attack," says Doms. "I wasn't, thank goodness but it was just so much stress mounting up."
For several weeks the man built like a draft horse, hobbled under the weight of illness as doctors searched in vain for the culprit. Today the best guess as to what caused his multiple ailments; stress from farming.
"We've never seen the stress that he's had like we did this year," says his wife Jenny. "That worried us because he doesn't complain, he doesn't show pain and if he's worried about his health then it's probably 10 times worse than he's letting on."
Help from the Ag Community
The American Farm Bureau recently released a host of stress and mental health resources. AFBF says stress and mental health needs more attention:
"It's even tougher now with trade wars, natural disasters, depressed commodity prices, labor shortages and many other issues weighing heavily on the farm economy. Given these challenges, more and more farmers today are experiencing stress and mental health issues, either directly or by having a friend or family member in distress. No one is immune, as AFBF President Zippy Duvall pointed out in a recent Zipline column. And the impact creates a ripple effect in rural communities, affecting lenders, farm business advisors, field representatives, clergy, teachers and others who interact with families in stress." 
Working Through the Stress
As a seed-corn grower, Greg Doms' payments are based on how his crops stack up against the neighbor. The competition is real. Added on top, Greg and Jenny both have day jobs. 
"It makes us weekend warriors," says Greg. "So you farm after work, you farm on the weekends and we push that to the limit​
​ in good weather while with bad weather, it just digs that hole deeper."
It isn't uncommon, during planting, for Greg to work all day, come home, farm until 2 a.m. and then head back to work at 7. 
"The boys and I try to do as much around the house as possible," says Jenny who works full time as a teacher. "We try to do the cooking and the cleaning and the yard work to help him out so he can focus on just two jobs and not worry about anything here."
​
​
Greg wasn't the only stressed out farmer in his fertile corner of Indiana. His phone became a lifeline for friends in fallow.
"This year, literally, you would talk to one guy hang up with him and somebody else would call," says Doms. "The calls were tenfold this year as we all needed to share what we were going through and knowing that, as bad as it is for you, there's probably somebody that's worse." 
Now thanks to a little honesty, dry weather and a few baseballs, Greg is back on his game. 
"We live by the F's," says Greg. "It goes faith, family, friends, farming, and maybe a little fun."
Six Tips on Managing Stress During Harvest