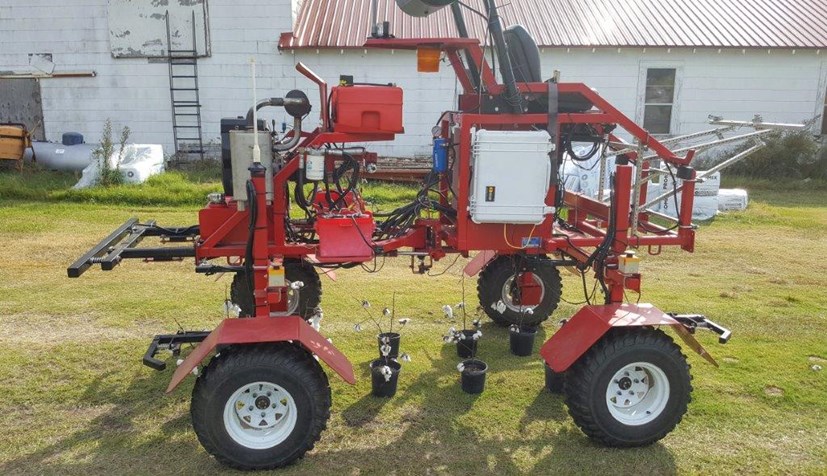 Picture a swarm of tiny robots moving down the rows of a cotton field, mechanical spider arms plucking multiple bolls per second and depositing fiber into holding containers. Ginning begins immediately within the containers as the bots move on to more plants. Scoffers beware: Agriculture is on the cusp of historical change.
Robotic harvest is knocking on the door of traditional row crop production and cotton growers may bring in the first fruits. A massive technological push steered by Cotton Incorporated aims to deliver automated harvest via fleets of swarm robots to U.S. fields within 10 to 15 years. Coordinated field research is underway in multiple states and the results may benefit the entire spectrum of U.S. agriculture.
A commercial prototype system could be ready in just over a decade, according to Ed Barnes, senior director of Agriculture and Environmental Research at Cotton Incorporated. Weaving together technological development projects across the Cotton Belt, Barnes hopes to fundamentally impact the dynamics of cotton production by opening the door to small acreage growers, lowering overall costs and improving lint quality.
The field math is crucial: Presently, top cotton pickers run at 5.5 mph and cover 8 to 10 acres per hour. Barnes estimates a single bot could run at 3 mph and cover 11 acres per day picking one boll every three seconds. Significantly, cotton plants mature from bottom to top. Open bolls can sit 40 days at harvest, exposed to the elements and subject to degradation. Barnes believes swarm bots could pick fiber in multiple mini-harvests as bolls open. (Cotton Incorporated has slated a 2018 trial to conventionally harvest every other day to gauge the effect on fiber quality.)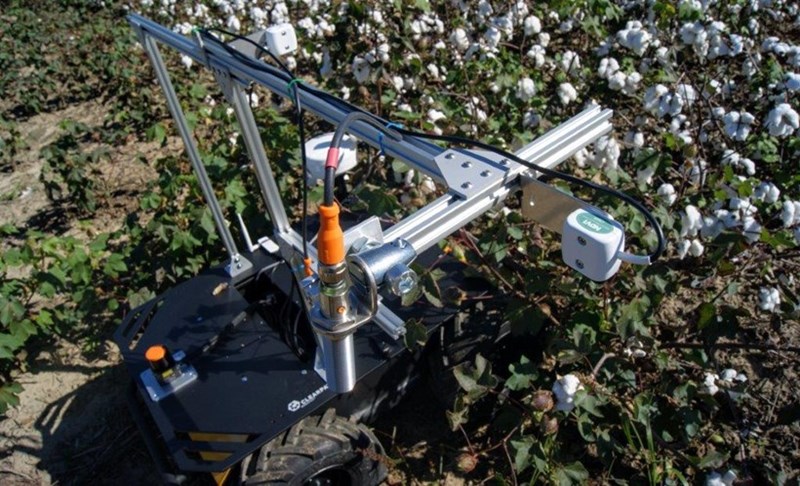 Assume a given acre holds 1,500 lb. of fiber. A single bot, collecting 60 lb. of fiber each trip, would pick the acre 25 times per harvest cycle. The overall harvest would extend to approximately 50 days, Barnes projects. "We'd stretch harvest out, but it would be much more efficient, with less time for a boll to get blown or washed off," he notes.
"The technology to do all these things is already here," Barnes adds. "We want to piece it together."
What is a reasonable target cost for a swarm bot? The starting retail cost for a module-building John Deere picker is $900,000-plus. Barnes is hoping to get costs allocated to harvest down to $4,000 per bot, which would open access for small to medium growers. Twenty bots; $80,000; 200-plus acres. Fifty bots; $200,000; 500 acres.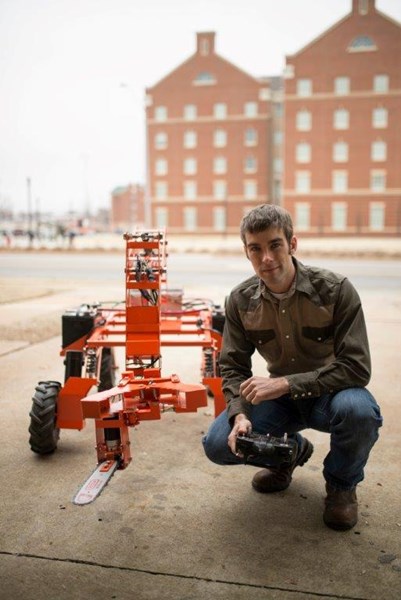 Robotic cotton harvesters would have additional value, Barnes emphasizes: "They have to be flexible beyond cotton harvest. Weed control, phenotype measurement, pest scouting and harvesting additional crops are all strong possibilities to further justify ownership."
Field Trials
The overall project, spearheaded by Cotton Incorporated, relies on Extension and USDA partners.
Glen Rains, an agricultural engineer at the University of Georgia, is working on a prototype to identify bolls at real-time speed and harvest with a vacuum tube. Rains is using an articulated rover made by West Texas Lee, customized to allow for add-on electrical components.
Roughly the size of a 50 hp tractor, the two-row rover is highly adjustable and easily raised. A hydrostatic drive and 25 hp engine turn hydraulic pumps. In front, a stereo camera looks down at bolls and feeds data back to a computer which controls an arm to extract fiber. (The rover will eventually be equipped with two arms; one per row.)
"Right now, we're looking at detecting in real-time and we're building an arm to move a harvesting suction hose to the location of bolls," he describes.
In a two-step process, the camera determines boll location and then boll stage. It seeks a certain amount of light in an image that specifies whether the boll is ready to pick. Currently, the rover can identify bolls at 1 mph, but Rains expects big increases in processing power.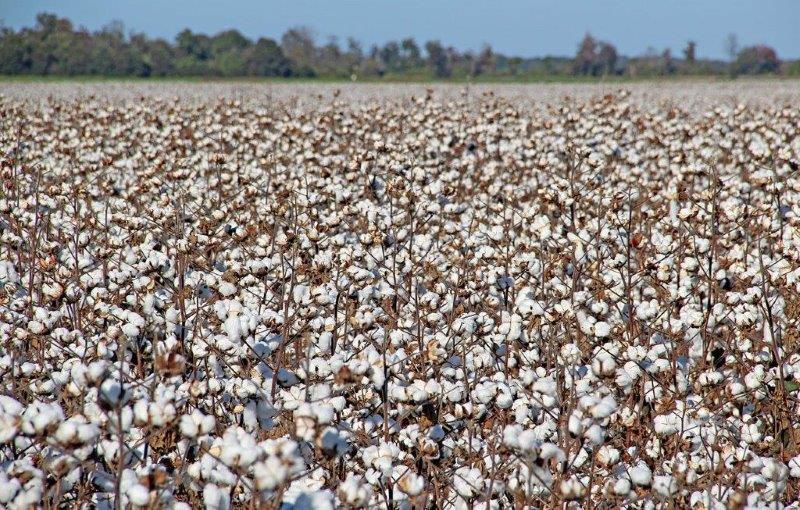 Rains estimates the Rover may eventually pick three bolls per second: "Ultimately, a lot of the capability will depend on cost of operation. A multipurpose machine changes the cost structure. Also, certain varieties with different boll density might be more conducive to this type of harvest."
An agricultural symphony composed of machine vision, artificial intelligence, and mechanical components is inevitable, according to Rains. "If we don't do this in the U.S., somebody else will. Whether it's cotton or other crops, the breakthroughs are coming fast."
In past years, time consumption related to crop recognition has been a robotic stumbling block, as has crop extraction. However, technology has caught up, propelled by processing speeds, Rains says: "This is the future and like most things, it depends on time and money to dictate how fast the field develops."
As another major spoke on the research wheel, Joe Mari Maja, an electrical and computer engineer with Clemson University, is testing the physical components of automation, aiming to add harvester mechanisms to a single-row Husky robot platform: "We're going to find out what picking technology works best. Possibly a vacuum tube, spinner technology, or multiple picking arm; maybe a combination of the three."
Maja has begun field tests, adding sensors and extending battery life. "This is a holistic approach that will go far beyond cotton. These same advances might be used in part with any crop," he explains.
"There is going to be genuine robotic harvesting for all crops in the near future," he says. "Our work at Clemson is one part of a big project, but we're all going to push and create some great things for agriculture.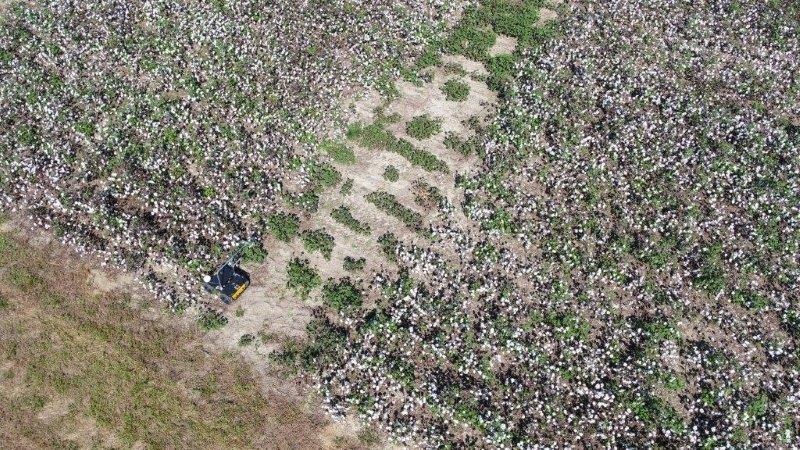 At Oklahoma State University (OSU), agricultural engineer Mike Buser is pulling hard on the research rope to develop an unmanned ground vehicle (UGV) to run cotton rows in search of plastic contamination, a consistent thorn for the cotton industry. Under Buser's tutelage, OSU research engineer Collin Craige is already creating a UGV to operate as a robot lumberjack to seek and cut down eastern redcedar trees located by UAV flyover scans.
"We're going to adapt robot technology to find plastic or any kind of field contamination," Buser notes. "A UAV can pinpoint the location of contaminants, and then this location can be relayed to a ground-based bot that will go out to the location and retrieve the contamination. We could use a swarm of bots for all sorts of tasks beyond contamination retrieval or harvest. They could be used for weed, pest, and disease control, or even nutrient management down the road."
Cotton Incorporated is expanding research to test robotic ginning and in-field separation of seed and fiber at Texas A&M University. In addition, specialists at Kansas State University are set to begin an economic analysis of all factors surrounding a swarm bot system. The entire swarm bot harvest project will be at full-bore during the 2018 crop season, according to Barnes.
When the first mechanized picker rumbled through a Hopson Plantation field in 1944, just outside Clarksdale, Miss., the cotton industry was catapulted forward by a technological advance considered impossible only decades prior. The single-row International Harvester crawled along at 2 mph, but the pace was fast enough to leave behind the manual labor of millions of field hands and transform U.S. farming.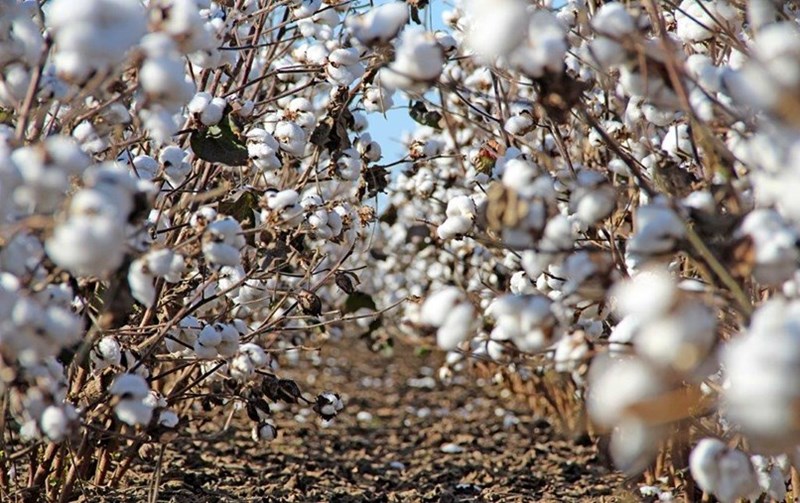 Promising technological leaps are easy fodder for naysayers and deemed as perpetual pipe dreams--until they arrive and suddenly become part of standard practice. "Twenty years ago the current round-baler was hard to envision for anyone in agriculture. Just a little over 10 years back, nobody out there even knew what an iPhone was," Barnes concludes, "Change is coming to farming and it will get here fast."