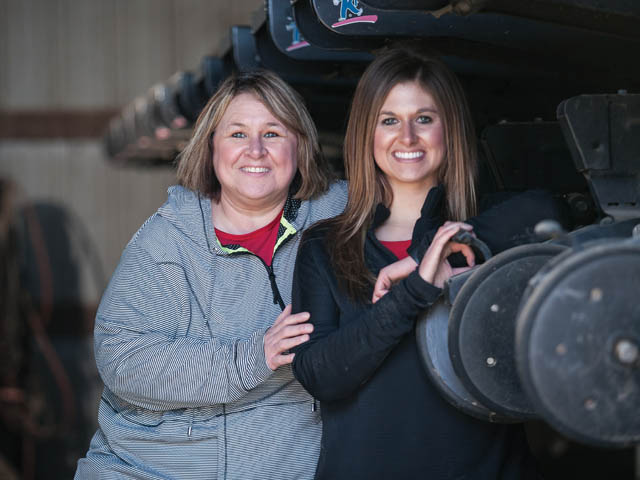 In January 2015, Maggie Holub's mother, Renee, slid a piece of paper across the kitchen table toward her—and with it, a life-changing opportunity. Maggie could farm half of the family's ground, while her sister, Amanda, and brother-in-law, Matt, would farm the other half.
The family meeting, and decision, happened in the months after the death of the family patriarch, Roger. After a three-year, hard-fought battle with brain cancer, he left a crop in the field and a grieving family focused on continuing the farm—but, no succession plan. 
Holub, then 27, felt honored and excited to carry on her family's legacy, but also terrified.
"We farmed 585 acres when Dad was here," Holub says. "Splitting a farm of that size is typically not financially viable."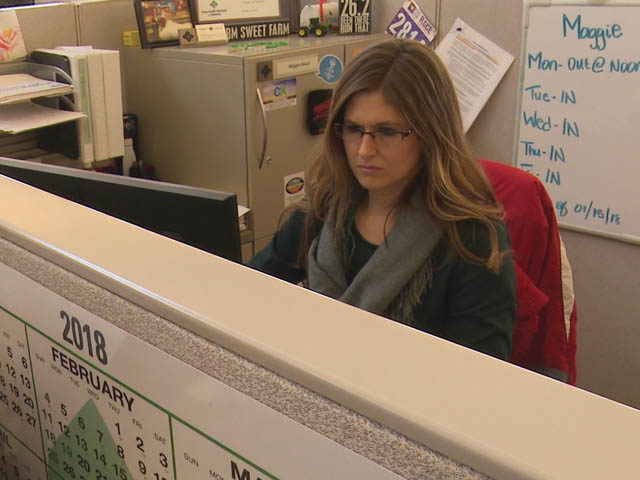 She would know. Since 2009, Holub had been a full-time credit analyst for Farm Credit Services of America in Omaha. By day, she scrutinized farmers' balance sheets, cash-flow statements and financial trends. Could she make those same production and management decisions for her own acres by night?
Drawing on her financial expertise, enthusiasm for agriculture and family support, Holub stepped up to the plate. Holub, now 29, is entering her fourth year of farming and has grown her operation from 280 acres to 700 acres of corn and soybeans in Scribner, Neb., all while keeping her full-time job in town.
Holub's calculated financial and risk-management strategies, continuous goal-setting and dedication to the ag industry are just a few of the reasons she earned the 2018 Tomorrow's Top Producer Horizon Award. The annual award recognizes a young farmer who demonstrates entrepreneurial originality, financial and business progress, and leadership in industry and community.
Holub always knew farming would eventually be her profession. She spent countless hours with her dad, especially in his last few years, learning the ropes on the farm. But doing the work yourself is different than just helping.  
"My dad made all the decisions for seed, fertilizer and chemicals," Holub says. "I had no idea how much it all cost. It was a big learning curve."
She went looking for answers. Holub met Frank Pollard, a certified crop adviser at Central Valley Ag in nearby Hooper, Neb. "I asked him to tell me how much fertilizer is an acre," she says. "Then we looked at how much it would cost if I went with anhydrous, urea or 32%."
Operator's Manual. This valuable information didn't just go in one ear and out the other. It all went in a binder, which kept getting thicker.
"She is relentless in her pursuit of knowledge, and she is not scared to try new innovations," Pollard says.
The lion's share of the binder's contents contained Holub's variable farm expenses. But it soon contained everything from information about the oil filter for each tractor to details on prepping the planter with accompanying photos.
"My binder would make a really good training model for somebody who is starting farming," Holub says.
In her first year of farming, her goal was simple: put a crop in and harvest it all by herself. She blew through that goal and raised 217-bu. corn and 56-bu. soybeans. It was time for new goals.
Per the family's farming arrangement, Holub and her brother-in-law cash-rent acres from Holub's mother. The two split use of the equipment, which they use for free and pay for upkeep. Grain storage also is split, and they share use of the farm shop.
Like many young farmers, Holub had little working capital when she started. She secured operating financing through her local Farm Service Agency and carefully selected where to invest and upgrade.
"Dad had a mentality of buying something and keeping it forever, which is great," she says. "But there's a level of capital improvement investment that any business needs to make to keep it sustaining."
For her first planting season, she overhauled one of her two tractors. "The sleeves in the motor looked like a strainer, and there was antifreeze in the oil. So my tractor wasn't going to make it through the season," she recalls. "My hope is it will now serve me another decade."
Holub also bought a new-to-her, larger combine. "Planting and harvesting have to fit into my paid vacation time from FCSAmerica," she says. "My John Deere 9500 trims two weeks off the harvest."
Holub earned an agribusiness degree in three years at the University of Nebraska before joining the FCSAmerica team. In her first role, she input financial data. Today, those financials are the basis of her decision-making process as a solutions retention credit analyst.
When financial stress spread across farm country a few years ago, Holub became one of 10 credit analysts to join a team to help farmers proactively manage their operations. "Our goal is to work credits that are showing distress but not to the point of foreclosure," she explains.
Holub analyzes her customers' financials, focusing on earned equity trends, cash projections and fixed asset costs. Then she recommends options such as rebalancing their balance-sheet debt structure or diversifying their businesses.
This on-the-job training has been invaluable for her own operation. "The fun thing about farming is we all raise No. 2 yellow corn and soybeans," she says. "But each operation does it so differently."
Holub feels the pressure to practice what she preaches. "If I'm telling my customers, 'You need to have a marketing plan, monitor variable expenses and family living and stick to a capital spending plan,' I should be doing those things," she says.
The binder Holub carried with her for her first few farming years has been replaced with a portfolio of financial and marketing spreadsheets.  She uses these to continually run what-if scenarios.
"I have 7,000 projections, I'm not kidding," Holub says.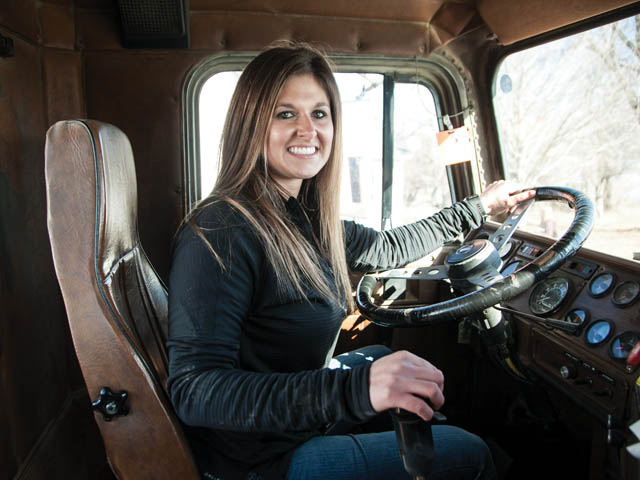 Farming Bucket List. After proving to herself she could survive a season of farming, Holub set her sights on higher levels of success. She is a goal-setter and -achiever.
"I have met several people over the years who have set goals for themselves, but I have not known many who actually write them down and categorize them," says Kristina Wilcox, Holub's farm loan officer at the Farm Service Agency in Fremont, Neb. "Maggie has lists of goals: 2018 goals, two-to-five-year goals, five-to-10-year goals, 10-plus-year goals, personal goals, fitness goals, etc. And they are all written down and marked off as they are achieved."
With her already strong knowledge of finances, Holub has zoned in the agronomic side of farming. "Maggie learned how to apply anhydrous ammonia, scout her own fields, drive a semi truck and is a good steward of her farm ground," Pollard says.
Pollard, inspired by Holub's can-do attitude, added a goal to her list: soil sampling. "He said, 'Here's a probe and the bags, take your four-wheeler and this is how you soil sample,'" Holub recalls. "It saves you money to sample yourself, and you know it was done right. So that was a goal added to the farm list and now successfully crossed off.
"I told Frank spraying was going to be my next one. He said, 'Yeah, I knew that one was coming.'"
Holub is quick to credit her mentors and those who have believed in her. After planting season or harvest, Holub drops by her bank, equipment dealership, loan office and cooperative with thank-you notes and cookies. "They are just small things you can do to make people feel valued," she says.
This gratitude extends to her mom. Renee works full time but has been by Holub's side through the entire journey. "I don't get paid," Renee says. "Instead, after harvest we go for a spa day. When we get stressed out during harvest, we just say, 'Spa day is coming soon.'"
Life isn't slowing down for Holub, and that's the pace she wants.
"I pride myself for all I get done," she says. "I'll go for a run at 5 a.m. or haul corn and then come to the office. It's crazy how much you can get done in one day."
A Snapshot of Holub Farms
OPERATION: Maggie Holub is a fourth-generation farmer in Scribner, Neb. She produces corn and soybeans across 700 acres, which she rents from her mother, Renee, and other landowners. Holub employs one seasonal team member and Renee provides labor, assets and advice. "Mom is my grain-cart driver, and she's my cheerleader," Holub says.
OFF-FARM INCOME: In addition to her farming operation, Holub works full-time as a credit analyst for Farm Credit Services of America in Omaha. "My job in town is how I diversify my operation," she explains. "The size and scope of my operation would not survive without the extra income source, insurance and retirement benefits. I'm able to apply on-the-job lessons to make my own operation viable."
GOALS: Holub has doubled her acres in the past year. She hopes to grow her base to 1,000 acres and work full time. She's considering bringing hog production back to the farm, as well as incorporating more production and management technology. But, she carefully weighs her capital-spending decisions. "Some of the farms that I've seen in distress have grown and spent too much too fast," Holub says, in reference to her work with FCSAmerica.
LEADERSHIP: Holub mentors and recruits students, as the University of Nebraska-Lincoln ambassador for FCSAmerica. She teaches a weekly fitness class at her local YMCA and sits on its board of directors. She would like to start teaching weight and fitness classes in nearby small towns.
Cost-controlling business Decisions
To make her row-crop farm sustainable, Maggie Holub has made tough financial and personal choices. Here's how she's managing tight profit margins.
Grain Marketing. Holub originally had three straight trucks and hauled a truckload every day to the local elevator. She bought a used 13-speed semi to truck grain farther and capture better basis at an ethanol plant. Now she sells one load per week. "That's a natural hedge," she says. "If you're selling constantly on the market, you capture the highs and the lows." She watches the markets daily and pulls the trigger when prices top her breakeven levels.
Family Living. When Holub decided to farm, she sold her house outside of Omaha and moved back home with her mom so she could live rent-free and the two could split other bills. She enjoys fitness and didn't want to sacrifice her healthy lifestyle. She became a fitness instructor to eliminate gym dues and earn extra cash.
Work-And-Farm Balance. Holub commutes an hour each way for her job, so she is strategic with her time. She takes off a week at planting and three weeks at harvest. The rest of her field work is done in the evenings and weekends and she hires custom work when necessary. "I constantly have to weigh costs versus time," she says.