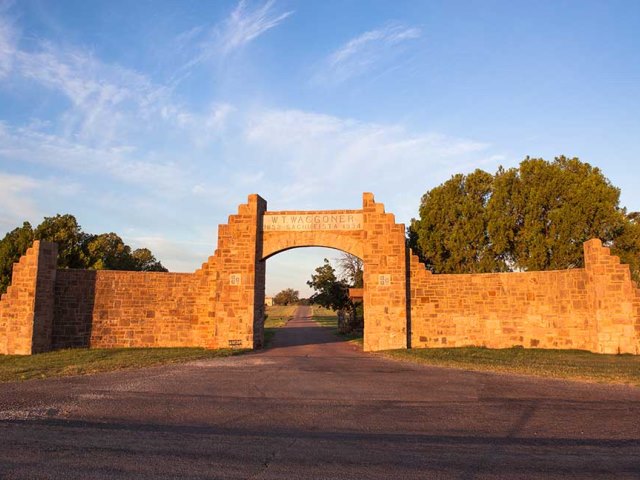 By: Laura Mushrush, associate editor, Drovers

Billionaire Stan Kroenke has been approved by a Texas court to purchase the historic W.T. Waggoner Ranch. The 520,000-acre estate sprawls across six Texas counties and has been on the market with a listing price of $725 million.
With six horses and 242 head of Longhorn cattle, a 21-year-old Dan Waggoner established Waggoner Ranch in 1849 in Wise County, Texas, just 50 miles northwest of Wichita Falls. A few years later in 1851, Waggoner expanded the operation by 15,000 acres in the Decatur area, and continued to increase his herd size and pasture land as the years went by. In 1852, Waggoner's son, W.T. Waggoner, was born, and would eventually become an integral part of the family operation.
According to W.T. Waggoner Estate History, a 14-year-old W.T. said, "I want to run the most cattle, breed the best horses and work harder than anyone."
With his nose to the grind, W.T. was made a full partner by the time he was 17, and had full management control just 10 years later.
"W.T. (Tom) Waggoner continued to expand the family's ranching interest to include over 500,000 acres. When W.T. attempted to provide artesian wells for his cattle, he found traces of oil in the wells he had sunk," says W.T. Waggoner Estate History. "Texaco came calling in 1909, and Waggoner leased them 250,000 acres near Beaver Switch. As a consequence of the discovery of oil on his property, Waggoner became an oilman, as well as a rancher."
As the ranch continued to grow and diversify in oil and livestock endeavors, W.T. established the W.T. Waggoner Estate in 1923 to benefit his wife and three children: Electra, E. Paul, and Guy. In 2014, the estate went on the market after District Judge Dan Mike Bird of Vernon, Texas, ruled it to sale to end more than two decades of family litigation. Its complete size of 520,527 acres is the largest ranch in the United States within one fence, reports Bloomberg News, and is larger than Los Angeles and New York City combined. The ranch has 30,000 acres of cropland, 6,800 head of cattle, 1,000 oil wells and 500 Quarter Horses.
"This is an incredible opportunity and an even greater responsibility," Kroenke said in a statement released by the Waggoner family and its representatives. "We are honored to assume ownership of the Waggoner—a true Texas and American landmark – and are deeply committed to continuing the proud legacy of W.T. "Tom" Waggoner, his family and his descendants. Our gratitude to them and to the many parties involved in this process is immense. We will continue to preserve and protect this uniquely American treasure."
Kroenke, who owns ranching operations in Arizona, British Columbia, Montana and Wyoming, has an estimated fortune of $6.2 billion, along with owning the National Football League team St. Louis Rams and National Basketball Association team the Denver Nuggets. He also owns Major League Soccer' Colorado Rapids, National Hockey League's Colorado Avalanche, and is a two-third's owner of English Premier League's Arsenal soccer club.
More from AgDay: