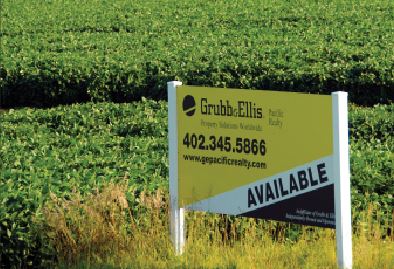 These micro and macro shifts will shape the industry
Smart producers keep micro and macro changes in their mind's eye because it allows them to remain competitive. More flexibility is needed moving forward, says Richard Brock, president of Brock Associates, a commodity marketing service that identified 10 emerging themes in agriculture in a recent report.

"One of our megatrends, possibly understated, is the rapid adoption and impact of automation technology," Brock notes. 

Technology including autosteer and plant genetics could have a big effect this year as equipment completes more work in less time. Corn yields are due for a breakthrough year, something last seen in 2004-05. Based on data from breakthrough years since 1990, yields could range from 170.7 bu. per acre to 185.8 bu. per acre,well above the trend yield of 162 bu. per acre.

As a result, harvest corn prices have fallen to the $3-per-bushel range. For producers in some states with record yields in excess of 250 bu. per acre, prices—though painful—don't look as bad because of falling breakeven prices. 

These megatrends underscore the fact that producers need to be more flexible moving forward, Brock says. "Farmers also need a growth strategy to survive," he says. "Plan to grow by 6% per year." To succeed, they need to examine risk management tools and educate young producers, Brock adds. In the past three years, futures and options usage fell, and those least likely to use the tools are young producers, who are used to corn priced $6 or higher, he says. 

Niche markets with premiums will accelerate, he says. Low-cost producers will also have a place.
Changes Producers Should Watch Carefully
1. Shifting Farm Structure. A large transfer of farm assets to younger producers will occur soon. The average farmer is 57 years old, and 30% are over 65. A typical Midwest farm of 2,000 acres could conservatively be worth $10 million, just including land valued at $5,000 per acre. The trend toward larger farms will slow until it hits equilibrium.
 
2. Acceleration in Technology. Data analysis in the years ahead will supplement what farmers know intuitively—and in some cases challenge those assumptions. New products rely on aerial satellite imagery, greenness sensors, soil maps and millions of weather data points. The question of data ownership will be a subject of growing debate.
 
3. Biotechnology Strategy Evolves. GMOs are here to stay but face political and public relations hurdles. In states such as Vermont, where labels are required, implementation is expensive. Yet some GMO advocates back a federal labeling solution that would halt state efforts. The industry can benefit by helping turn public opinion. 
4. Specialization to Continue. Agricultural production is becoming more specialized. In 1982, 35% of all farms produced corn, but in 2007 only 22% did because of economies of scale, technological advances and government policy. Today, farmers have diversified with organics, non-GMO products, high-oleic soybeans and high-starch corn. 
5. Resource Scarcity. More than 40% of the food production increase since 1961 has been accomplished through irrigation, but groundwater supplies aren't infinite. Concerns have grown about the Ogallala Aquifer, which supplies 30% of U.S. irrigation groundwater. If trends continue, the aquifer will be 69% depleted, according to one study. Climate change also poses challenges. Scientists estimate that for each 1.8°F increase in temperature, key crop yields drop 10%.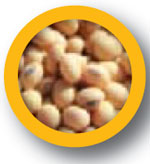 6. Changing Commodity Environment. From 1980 to 2004, the correlation of corn prices to crude oil prices was 0.35. From 2005-13, that figure more than doubled to 0.87. Other commodities similarly illustrate the strong relationship between energy and crop prices. Future crop demand growth appears less bullish than in recent years because biofuels demand has "largely run its course." Although future demand for soybean exports will remain strong, China, which now buys two-thirds of all soybeans traded, has built its soybean stock levels from virtually zero to 17.4% of use. That will ease its import appetite.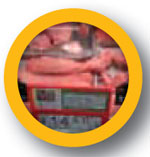 7. Meat Consumption Shift. U.S. meat consumption declined 7.8% from 2007-13. Meanwhile, China has been the world's top meat consumer since 1992. By 2012, China's consumption more than doubled that of the U.S. By 2022, China's red meat and poultry consumption is projected to rise 15.2%. The U.S. likely will ship more pork and fewer feed grains to the country. That's because it is more cost-effective and efficient for China to import finished goods, a factor reflected in the Shuanghui International acquisition of Smithfield Foods. Regardless, U.S. grains and oilseeds will be needed by meat producers, as total world red meat and poultry demand is set to rise 15.1% from 2013-25.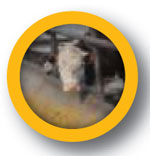 8. Public Scrutiny of Livestock Treatment. Consumer demand and regulatory insistence on a range of safeguards for raising livestock in ways deemed sustainable and humane are causing rapid changes in the food system. Large food companies and supermarket chains are phasing out the use of sow farrowing crates from their supply chains. The change also has been forced by state legislation. Amid heightened consumer interest, transparency can be a powerful tool: Cargill, for instance, won over some skeptics in 2011 by taking reporter Lisa Ling on a tour of a slaughterhouse in Fort Morgan, Colo., as part of a segment for "The Oprah Winfrey Show."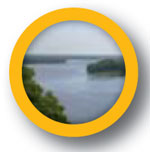 9. Environmentalism's Influence Grows. From fertilizer to pesticides, farmers have to be mindful of a complex, growing web of regulations. One of the fiercest battles is in the Chesapeake Bay watershed. A judge ruled in federal district court that an agreement between the Environmental Protection Agency and six states to implement a total maximum daily load (TMDL) of pollutants fits within the framework of the Clean Water Act. Farm groups had sued to try and stop implementation of the 2011 agreement, and they warn that the ruling will have implications nationwide.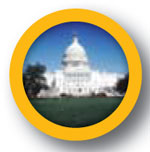 10. Government Policy in Flux. Successive administrations in the U.S. and other countries have established approaches to land use, biofuels, GMOs and monetary policy that seem likely to continue. The biggest change is likely to occur in China, which is slowly embracing GMOs. Chinese acceptance of GMOs for domestic crops would go a long way toward maintaining self-sufficiency and potentially turn the country into a net exporter.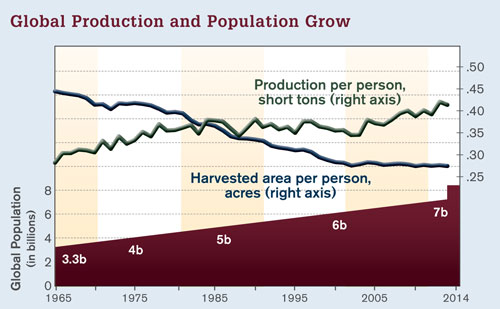 Crop production worldwide continues to increase

Did you know?
Futures and options usage tumbled in the past three years, and young producers are least likely to use those tools.