A place to farm today and forge the future? A home to test technology designed to address the deepest pain points in agriculture? Welcome to the Grand Farm and its moonshot goal to become the world's first fully autonomous agriculture operation by 2025.
Far beyond full autonomy, the Grand Farm aims to be a laboratory for entrepreneurs and ag tech companies—a development and testing ground for the future of every facet of farm technology. Located on 40 acres south of Fargo, N.D., the project will begin facility construction and technology testing in 2020.
The Moonshot
Brian Carroll, director of the Grand Farm, hopes to make history and create the world's first fully autonomous farm with a mix of robotics, IoT, and driverless vehicles.
In 2017, Emerging Prairie, a North Dakota organization focused on building entrepreneurial opportunity, began promoting the possibility of establishing an advanced agriculture hub in Fargo, using the autonomous Grand Farm as a tool to create business startups, as well as attract premium talent with expertise in farm technology, and take advantage to leverage regional resources.
"Our idea is patterned after Kennedy's moonshot in 1962—the decade challenge," Carroll says. "We met with industry leaders on July 10, 2018, and were given 40 donated acres the very next day. Our planning has been going in full gear since then."
The first phase of automation technology will focus on row crops, specifically wheat, corn, and soybeans, according to William Aderholdt, Grand Farm program manager. "By April 2020, we hope to break ground on the first physical building as a test site to go with the farmland. The Grand Farm will house six businesses at a time to develop tech products—12 businesses for the year. We're already talking with the township to make roads adjacent to the land autonomous-friendly during certain times of day to open doors to test equipment."
Confidence to Invest
The Grand Farm will impact farmers in two ways, Aderholdt says. First, automation enhancement will push farmer access and open an agricultural era conducive to farms of all sizes, buoyed by technological innovation. Automation and smaller vehicles, he believes, will lower the entry barrier across the agriculture industry—and essentially revive small farms. "The cost of entry is going to drop; you won't have to purchase an expensive combine. You'll be able to run a small combine, about the size of a car, across your operation 24 hours a day with no driver costs."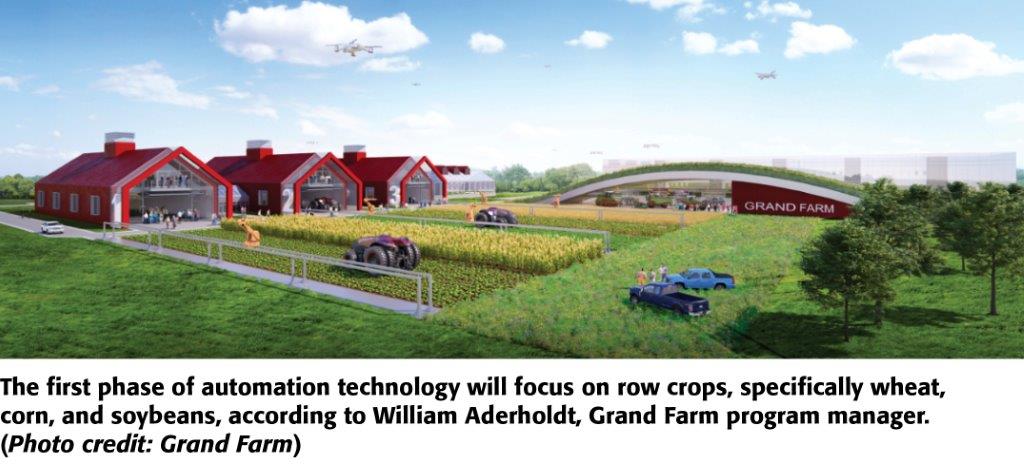 Labor availability and expense remains a massive issue in agriculture, but automation will be a significant remedy, Aderholdt believes. "For example, we're going to see operations tended entirely by individual and single-family teams assisted by smaller machines. This is coming fast and the effect will be positively felt in rural communities as a way to build local economies and drive people back into these places."
Second, the Grand Farm may provide direct investment opportunity to growers, according to Aderholdt: "We're looking into the development of a group of farmers who put money into these companies at the Grand Farm and get back equity—and take full advantage of all developments. If regular farmers are not confident to invest in the technology, how can we expect others to have confidence?"
Beyond 2025
Carroll doesn't shy from significant ambition, and hopes to attract venture capital into the Fargo region to bolster early ag startups focused on precision technology and automation. He doesn't hesitate to reference the early atmosphere of the Silicon Valley. "People were trying to solve problems, and in doing so they built up a knowledge base and churned out world class companies. We want to do something similar and marshal all the resources of our region."
Beyond 2025, what does the Grand Farm look like? The stated goal is a fully autonomous farm, but Carroll is driven by the potential of the byproducts. The project's ambition is necessarily massive in scope, he explains: "This is a road to developing solutions for agriculture's future, and we'll get to an autonomous farm along the way."
For more, see:
Descent Into Hell: Farmer Escapes Corn Tomb Death
Against All Odds: Farmer Survives Epic Ordeal
Killing Hogzilla: Hunting a Monster Wild Pig
Breaking Bad: Chasing the Wildest Con Artist in Farming History
Blood And Dirt: A Farmer's 30-Year Fight With The Feds
American Farmer Snuffed Out Saddam Hussein
Future Shock: Farmers Exposed By US-China Long Game
Wild Pig Wars: Controversy Over Hunting, Trapping in Missouri
Agriculture's Darkest Fraud Hidden Under Dirt and Lies
In the Blood: Hunting Deer Antlers with a Legendary Shed Whisperer