News stories come and go. But the longevity of the African swine fever (ASF) problem in China and throughout the world is going to be around much longer than the mainstream news media give it credit for, says Arlan Suderman, chief commodities economist at INTL FCStone.
"We're living in a microwave culture," Suderman says. "Everything can be done in a quick fix. African swine fever, however, will not just come and go."
He says the general public is missing the longevity of this problem and how long it will take to rebuild the industry.
"We're past a year now and it's still spreading and getting worse," he says. "We believe it will be another 4 to 6 years before China will be able to rebuild its herd, but that's making assumptions about when and if they will be able to get an effective vaccine."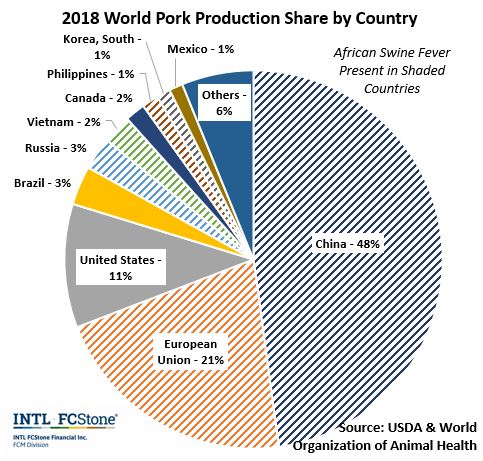 Graphic provided by Arlan Suderman, INTL FCStone

The number of major pork producing countries afflicted by ASF is staggering. No area has been able to contain ASF at this point.
"It's real sobering considering how it's continuing to spread," he says.
Last spring's explosion of prices at the wholesale level were mostly absorbed by retailers because they did not believe it would be a long-term problem. 
"To some extent, they proved to be right because prices came back down," he says.
Although the market over-anticipated the timing of the Chinese demand, Suderman believes it will be different the next time around. 
"I think when prices go up next, they'll stay up and they'll keep going up," he says. "The consumer really didn't feel the pain last spring, but I think the consumer will feel the pain by this coming spring."


More from Farm Journal's PORK:
Pork Exports Explode; USDA Notes Possible Reporting Error
Will Heavier Pigs in China Create Opportunities for U.S. Farmers?