Building trust in food begins with empowering farmers through one of the largest and most diverse conservation- and sustainability-focused public-private partnerships in our nation's history: America's Conservation Ag Movement. To find the latest news and resources related to the Movement, visit AgWeb.com/ACAM.
---
Rick Clark farms butt-naked. "Chemicals, synthetic fertilizer, seed treatments—I've gotten rid of all of them, and found a system that has a lot of promise," Clark says. "When you find success on something the first time you try it, then you just want to keep trying new things."  
When Clark ended all pesticide use in 2015, and synthetic phosphorus and potassium use in 2015, and finally eliminated synthetic nitrogen across his farm in 2020, he put another stitch in a decade-long tapestry of reductions across his entire 7,000-acre operation. Apples to apples, comparing 2011 to 2019, Clark reports savings of $670,000 per year on diesel, synthetic nitrogen, potash, lime, MAP, and chemistry.    
Farming's version of a rolling stone, Clark has slashed inputs, passes, machinery, and labor, dropped crop insurance, and moved his operation from conventional to regenerative toward organic, driven by pragmatism. If the consumer is king, then Clark is an attentive vassal, focused on market demand: "I never want my farm to stop changing and I never want to stop learning. If you're comfortable with how you do things on your farm then you're not learning."
"This was my future"
On the edge of historical prairie, fifth-generation Clark, 56, no tills (since 2005) on silty, clay loam, roughly 15 miles north of I-74, outside Williamsport in west-central Indiana, almost on the Illinois line. Alfalfa, corn, soybeans and wheat make up the cash crop rotation, along with roughly 175 head of cattle scattered across the operation.
It's May 20, 2020, and most of Clark's fellow Warren County growers have already planted or are at full-bore, but Clark is on pause with the patience of Methuselah. Only 100 acres of soybeans and 120 acres of field peas have been punched—just enough to ensure his planters are primed to perform. Otherwise, Clark, along with nephew, Aaron Clark, son-in-law, Erik Carpenter, and employees Andy Goble and Aaron Altman, hold the line on 7,000 acres.
Clark's 2020 waiting game is best explained by the past. Rewind to the seminal spring of 2009: Clark ripped 400 acres of soybean stalks, went black with two passes of tillage in corn prep, and caught a 1" rain prior to planting. Not exactly unusual circumstances—except that Clark gave the ground a careful, post-precipitation walkover: "An inch of rain hit me like a hammer because I saw sickening soil loss. That was the day Mother Nature woke me up."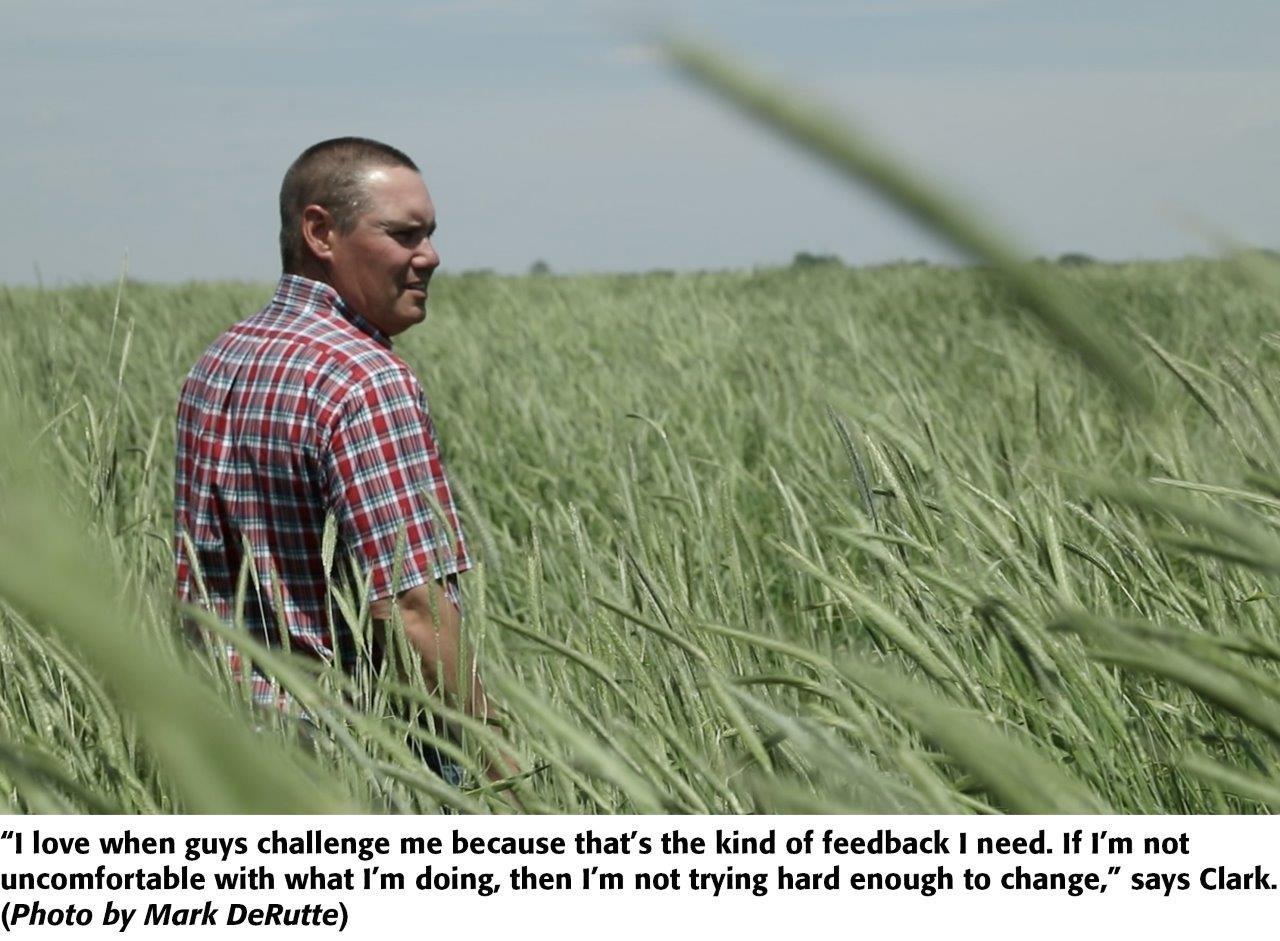 Several months later, Clark began transforming his farm, slowly and carefully, unsure of direction or outcome: "That same fall, I went for change and found real success. I don't try to soft-pedal the circumstances because I was nervous and unsure, and if I'd have not found success that first year, I'd have likely walked away. I was fortunate, and like I've said before, 'Success in your fields is exciting and I just can't get enough.'"
Clark's tool of choice, a John Deere air seeder, no tilled 200 acres of tillage radish (4 lb. per acre) laced with 10 days of ideal temperatures in the 70s—a recipe for quick germination. The plants jumped, grew into the finest radishes of Clark's career, and hit winterkill, ending in the high, curdling stink of success. The following season, the same 200 acres produced Clark's highest yielding corn of the year at 235 bpa.
Afterwards, the cover crop blanket expanded relatively quickly across Clark's ground, increasing to 800 acres in 2010; 2,000 acres in 2011; and 7,000 acres in 2012: "This was my future."
"Yield does not drive"
Clark's cover crops are hostage to west-central Indiana's winterkill date and weather profile that demand planting in a rough window from Sept. 20-Oct. 1. Yet, cash crops remain in his fields in late September, creating a timing impasse.
Clark's solution is to shorten crop maturity. He switched from a 3.8-4.2 soybean to a 1.7-2.8 soybean, and dropped from 110-116 day corn to 95-106 day corn. What about yield loss? "Maybe sometimes, but so far we are not seeing much of a yield drop" Clark emphasizes. "Yield does not drive my system. Soil health and ROI do. I will sacrifice yield for soil health because I'm constantly trying to improve my overall system. The success of next year's cash crop begins with the success of this year's cover crop. That's why it is imperative that these cover crops get established in a timely fashion in the fall."
Mother Nature Talking
The spring of 2012 held another crucible moment for Clark. He planted GMO corn across 1,500 acres of green cereal rye that was planted with a no till air seeder, but incessant rain kept his sprayer at bay, resulting in a high canopy of rye. Weeks (and more rain) later, the rye climbed to 5', and the yellowing corn hit V3, desperate for a bite of nitrogen. Using a narrow wheel spreader box, Clark fed the corn 150 lb. of ammonium sulfate and watched it quickly turn green. As the rains finally subsided, he hit the rye with glyphosate, but the cover still took several weeks to completely burn down. "We were well into June and the drive-byers didn't even know we'd planted corn because the high rye was covering it up. Everybody who looked said it's a disaster: 'You gotta replant.'"
"No way was I going to replant; I refused. The corn later poked out and we used a Y drop rig to sidedress UAN-28%. At the end of the day, that same corn was the second-best yielding corn on our farm. I now had the confidence to plant green. I know my brain works different from other people and it's definitely not better, but just different."
Termination of covers became an after-planting affair in Clark's fields as a means to gather nitrogen, control erosion, and control weeds. "Mother Nature was talking to me again: 'Plant cash crops later and let covers go well into maturity,'" Clark recalls. "I had just found more success and I had to keep trying."
Adios to Chemical Costs
At a field day presentation in 2013, Clark listened to a presentation by Erin Silva, University of Wisconsin-Madison Extension specialist in Organic and Sustainable Cropping Systems, on roller crimping cereal rye. Essentially, she handed Clark a means to eliminate cover crop burndown, and plant even later. "We now plant soybeans at boot-stage of cereal rye," Clark says. "About 40-45 days later, when rye is at anthesis and dropping pollen, we terminate with a roller crimper while the lignin is at its highest. It works because the beans have grown to V2, and you roll the field flat, rye and beans together. The cereal rye dies and the beans pop up. For me, that's how cereal rye became part of my weed control, and it also became the real start of taking away chemicals from the farm. It was also how things started getting really crazy."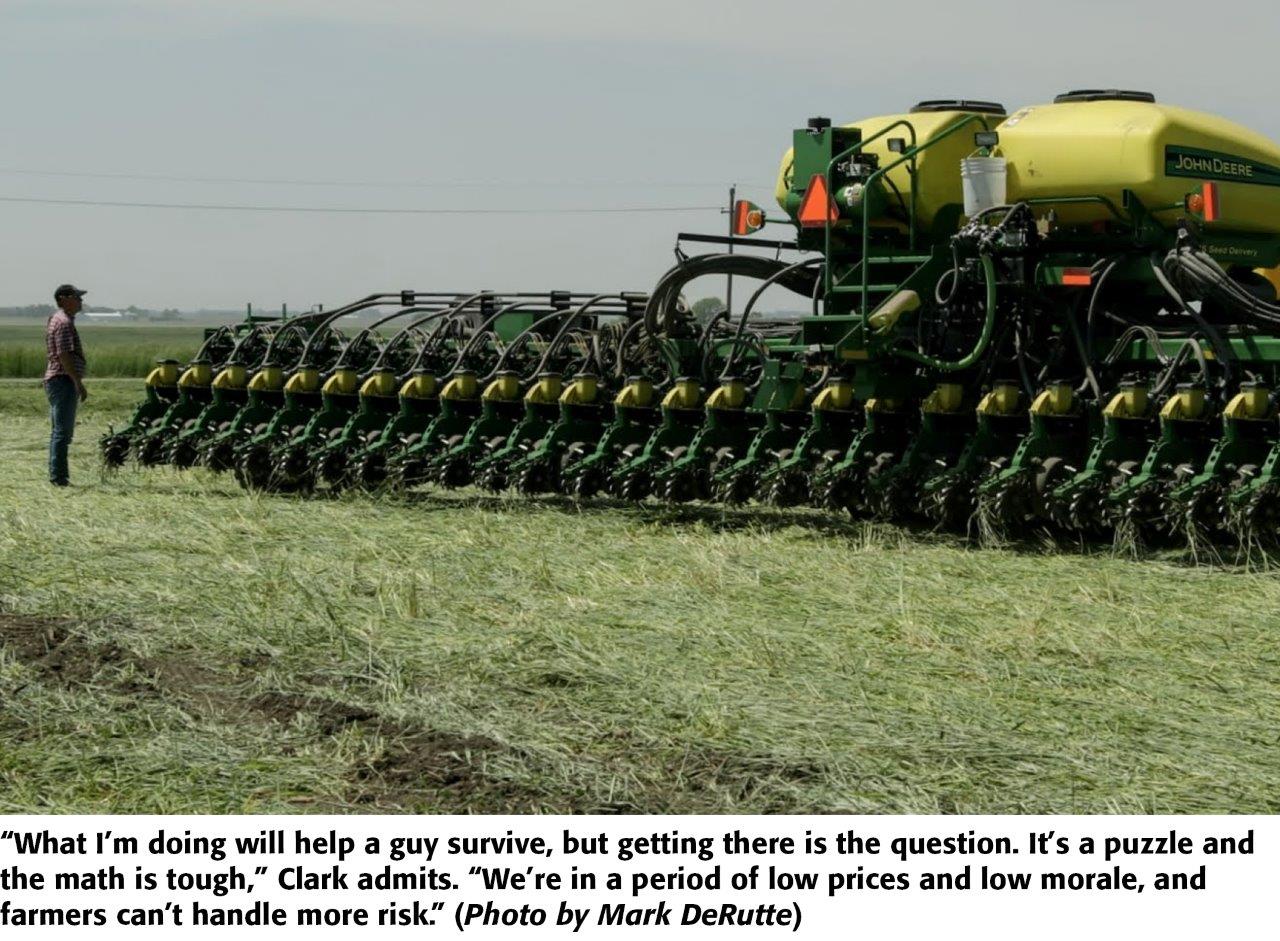 Roller crimping is particularly effective because of the nature of cereal rye as a cover crop and the nature of soybean as a cash crop, explains Silva. "Roller crimping has a wide range of efficacy against many weed species, and is an incredible weed management tool," she says. "It's increasingly being recognized by conventional farmers as well. Roller crimping also provides benefits to protecting or building soil, and is a win-win in a farming system."
Silva, on the front lines of roller crimping research and technology, says the practice and technology is increasingly gaining attention and adherents. "It's overwhelming, especially in the adoption the last three years across the entire country on different types of farms from traditional to organic. There are also more machinery options in development, and more manufacturers developing different styles and price points of roller crimping," she continues. "It'll be very interesting to see how the different machinery is more effective in diverse regions, soil types, and cropping systems."
Absent tillage and herbicides to control weeds or terminate covers, Clark relies on winterkill or an I & J roller crimper, a flail chopper, a RowMow, or an in-row roller. "I'd say cover crops are 70% of my weed control and the cash crop canopy is my other 30%."
"By planting in late April at boot stage, we've eliminated the burndown pass in soybeans. Let's say I've got 3,000 acres of soybeans and saved $15 per acre in burndown, and therefore $45,000 for the crop year. Bam, I just paid for the roller crimper in one season."
Flipping Corn and Soy
In 2014, representatives from Dannon arrived unannounced on Clark's doorstep and asked if he could switch 1,500 acres to non-GMO corn for use at a new dairy (5 miles away from Clark's operation). Clark made a series of calls, located 800 units of seed, and dove into non-GMO crops. His corn silage and alfalfa became part of the chain for the first non-GMO Dannon yogurt produced in the U.S. "I have no problem with GMOs, but the consumer drives the bus and I'll give the market what it asks."
In fact, starting in 2015, Clark dropped all use of seed treatments, insecticides and fungicides. As of 2020, Clark has grown all non-GMO for six years and is currently moving his acreage into organic status (1,200 acres of organic soybeans in 2020). "That makes six years of no P or K fertilizer or ag lime. My pH level is 6.8 and rising, because salt and acids from synthetic fertilizers are not present. I've eliminated N applications and I've found a way to get ample N for my corn."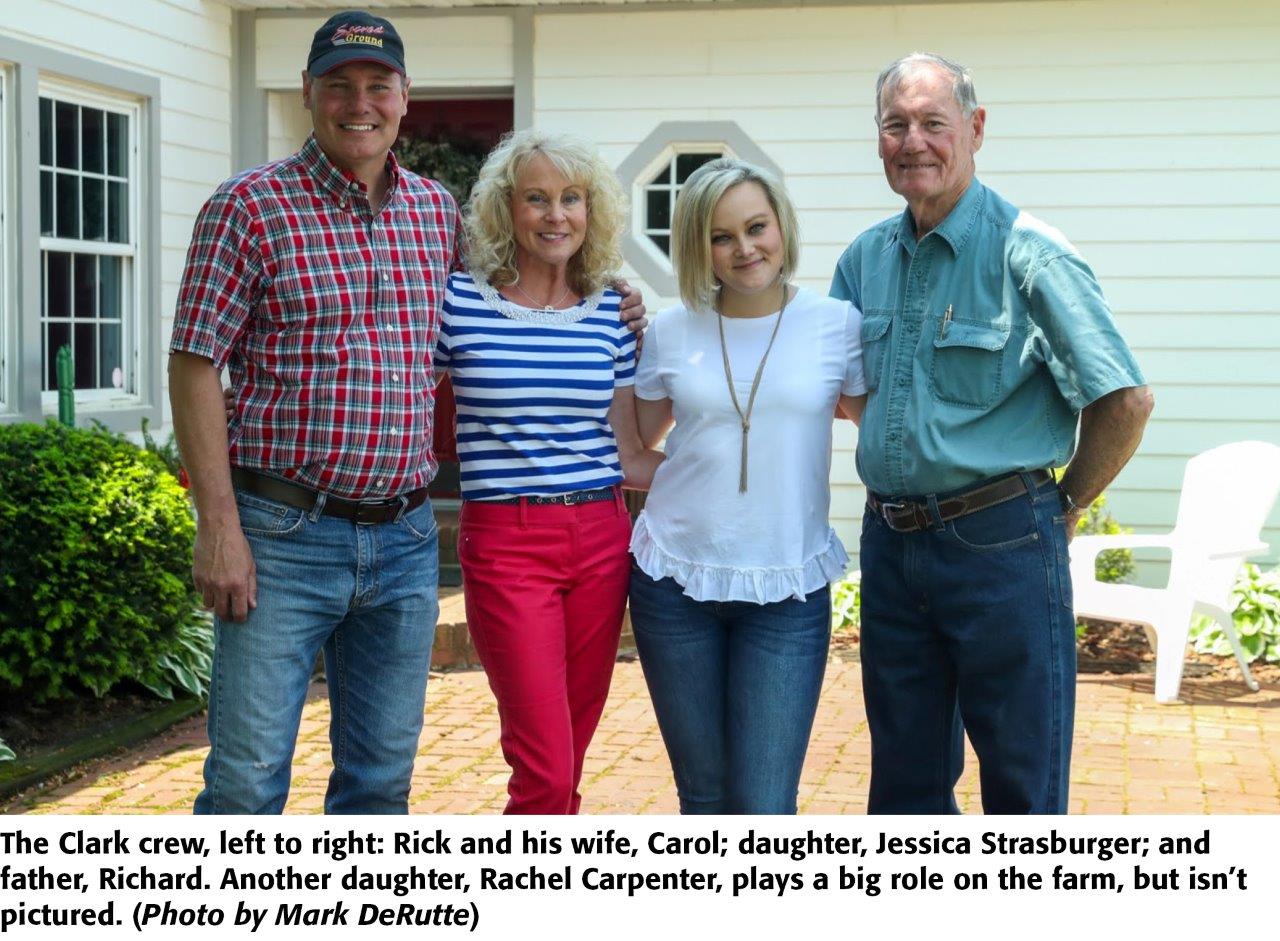 For example, cattle are becoming an increasingly important part of Clark's system. On ground grazed by his cows in 2019, nitrate core tests show 50 lb. of inorganic nitrogen ready to go, and Clark believes 50 lb. will be available during the 2020 season. "By waiting late, we'll fix over 150 lb. of N with balansa fixation clover, just by waiting over 30 more days than everyone else to plant. We'll be sitting at well over 200 lb. N, and plant organic corn and add nothing. Nothing. It'll be naked."
Clark's approach has reversed his crop order, flipping the planting of corn and soybeans. Soybeans go in first, followed by corn, an order established for maximum nutrient sequestration. "I let the covers go until maturity and pull in 300 lb. of K20. My factor on nitrogen is .8, and I need about 120 units of nitrogen. I can show anybody the data with the cover cocktails I plant and I can fix 100-180 lb. of N through legume packaging. With my system of covers, we're going to mineralize at least another 50 lb. of N."
Clark's go-to cover cocktail, Gunslinger, and is composed of Austrian winter peas, fixation balansa clover, oats, sorghum sudangrass, and tillage radish. However, in letting cover crops go to maturity, Clark must contend with unintended consequences in the form of viable seed shed to ground. "Balansa will drop seed and that now has the potential to grow the next spring, but that's OK, as long as you recognize what can happen. You can smother about anything with 150 lb. of cereal rye."
Data Glutton
Five passes. Clark's system accumulates major savings on diesel, labor and machinery with a regimen of five passes in total (often four). One, at planting; two, at mechanical termination of covers; three, possibly a row-mow pass or in-row roller pass; four, the combine at harvest; and, five, air seeding when covers are planted. "I've saved about 50% on diesel over the past decade and that's $35,000 per year," he says.
Clark worships at agriculture's data altar, gleaning numbers from every farm activity: Haney tests, yield stats, topography, tile versus no tile, hybrids, tissue sampling, nitrate tests, financial analyses to the penny, and abundantly more. Plainly stated, Clark is a data glutton. "Data, data, and more data. I want 10 to 12 layers to influence my decisions. For example, the amount of stability we're seeing will blow your mind. In past years, we had yield variance of 30 bushels in a field swing, but now we're seeing about a 7-bushel variance. That stability means data mining is successful."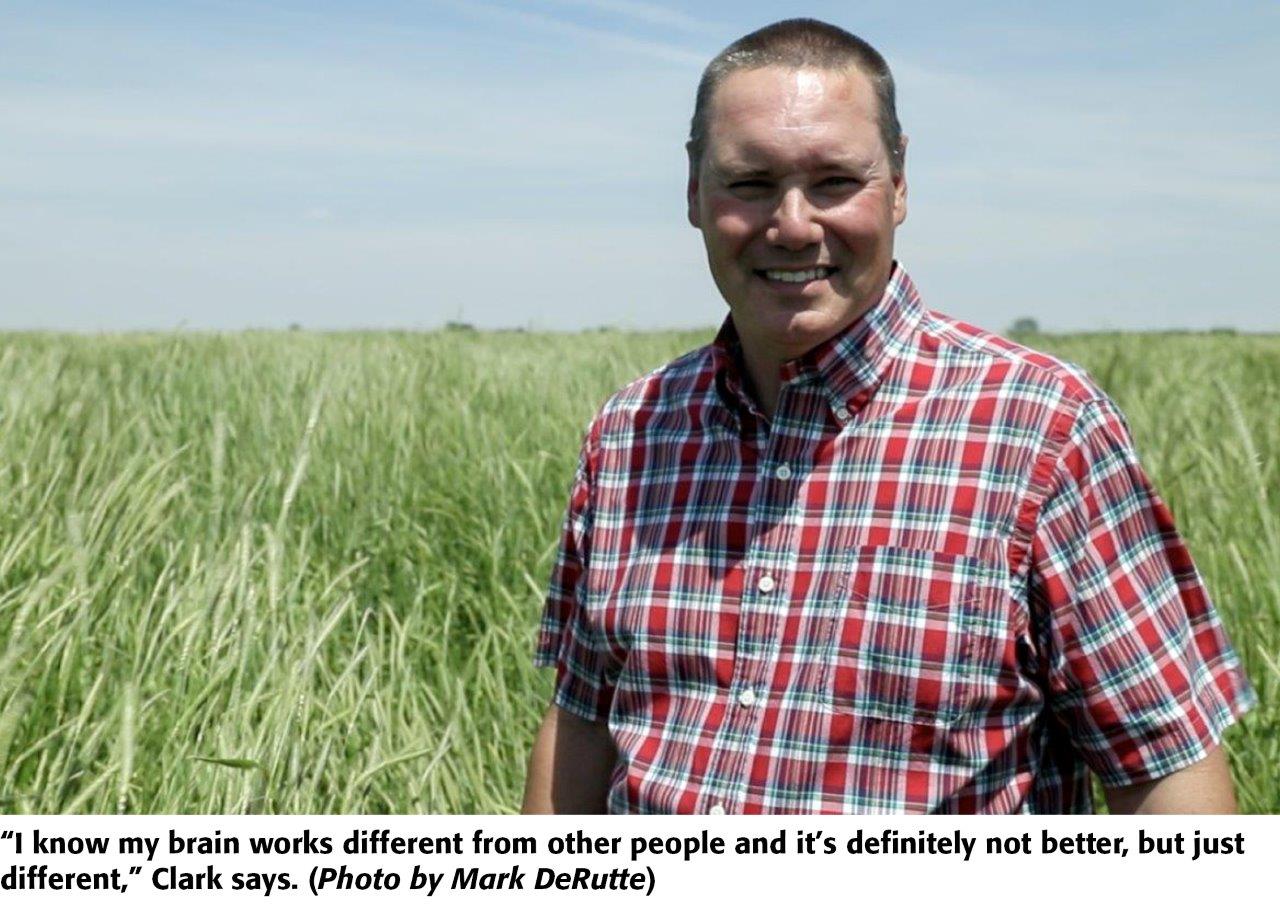 "Everybody collects data all the time, but some people don't use it. Since I dumped potash, MAP and DAP, I'm running a fine line, and in five years, I may dump soil testing if I keep getting the same results each year. Once my soil is in balance, I'll back off testing, looking for a flat line with no more fluctuations."
Clark urges growers to open the books, pull out receipts and tally the hard numbers. His reported dollar changes from 2011 to 2019 are eye-opening.
* Diesel use has dropped from 30,011 gallons to 15,151 gallons—$35,000 per year savings.
* Horsepower has gone from 3,350 to 1,200 (a current machinery fleet of planter, drill, roller crimper, combine and four tractors).
* Synthetic nitrogen diminished from 220 lb. per acre to 110 lb. per acre (down further in 2020 to a zero level) and savings of 110,000 each year.
* Potash went from 400 tons per year to zero—a $142,000 reduction.
* Lime changed from 2,100 tons to zero—a $53,000 drop.
* MAP declined from 330 tons to zero—$138,000 in savings.
* Chemical applications bounced from $40 per acre to zero for $192,000 in savings.
* Bottom line, Clark reports $670,000 per year in reduced costs.
Regen Fields
Clark's operation is a farm in transition to 7,000 acres of no till, cover-based, organic cash crops—a rare combination. Currently, his non-GMO corn on 20" rows costs $140 per bag and he plants between 38,500-40,000 units per acre ($70 per acre in seed as simple math). "It's $190 per acre for me to put non-GMO corn seed in the ground—insanely cheap," he says.
On non-GMO soybeans, he pays $29 per unit and drops one naked unit per acre (or just less). Yet, with all the input reductions in Clark's system and the elimination of chemicals, he wants to use the changes as stepping stones toward organic production.
For organics, he'll pay $220 for a bag of corn, and roughly $36 for a bag of soybeans. "I'm still learning every day as we switch and I'm going to figure things out. "My organic beans go with cereal rye, and I think we can build enough N to do wheat. The difficulty will be corn, but I'll figure it out."
Along with cattle, cash crops and covers, Clark already places each field in regen every five years. "Regen is not a zero profit year because I'm building soil health. This is about ROI and a three- to five-year average. For example, if I build up soil health, and hit 200 bu. organic corn at $9.50, then things come out good. If you average the regen year with the other years of cash crop then from my perspective that's definitely not taking a year off."
Embracing Discomfort
When Clark began making wholesale changes on his farm, corn was hovering at $6 per bushel—a number that provided latitude. It was no golden parachute, but $6 afforded a degree of slippage. In the commodity climate of 2020, the margins are wafer thin, and leave dramatically less room for trial and error. Coldly stated, farmers cannot afford a screw-up.
"What I'm doing will help a guy survive, but getting there is the question. It's a puzzle and the math is tough," Clark admits. "We're in a period of low prices and low morale, and farmers can't handle more risk."
However, he urges growers to consider carving out a few acres and removing yield numbers off the top pedestal. "On a small spot, try your way versus my way and only measure ROI. Take 80 acres and try an honest 40-40 split."
"There's always a better way and we must be willing to change. I change all the time and my mind is open to everything on my farm. I love when guys challenge me because that's the kind of feedback I need. If I'm not uncomfortable with what I'm doing, then I'm not trying hard enough to change."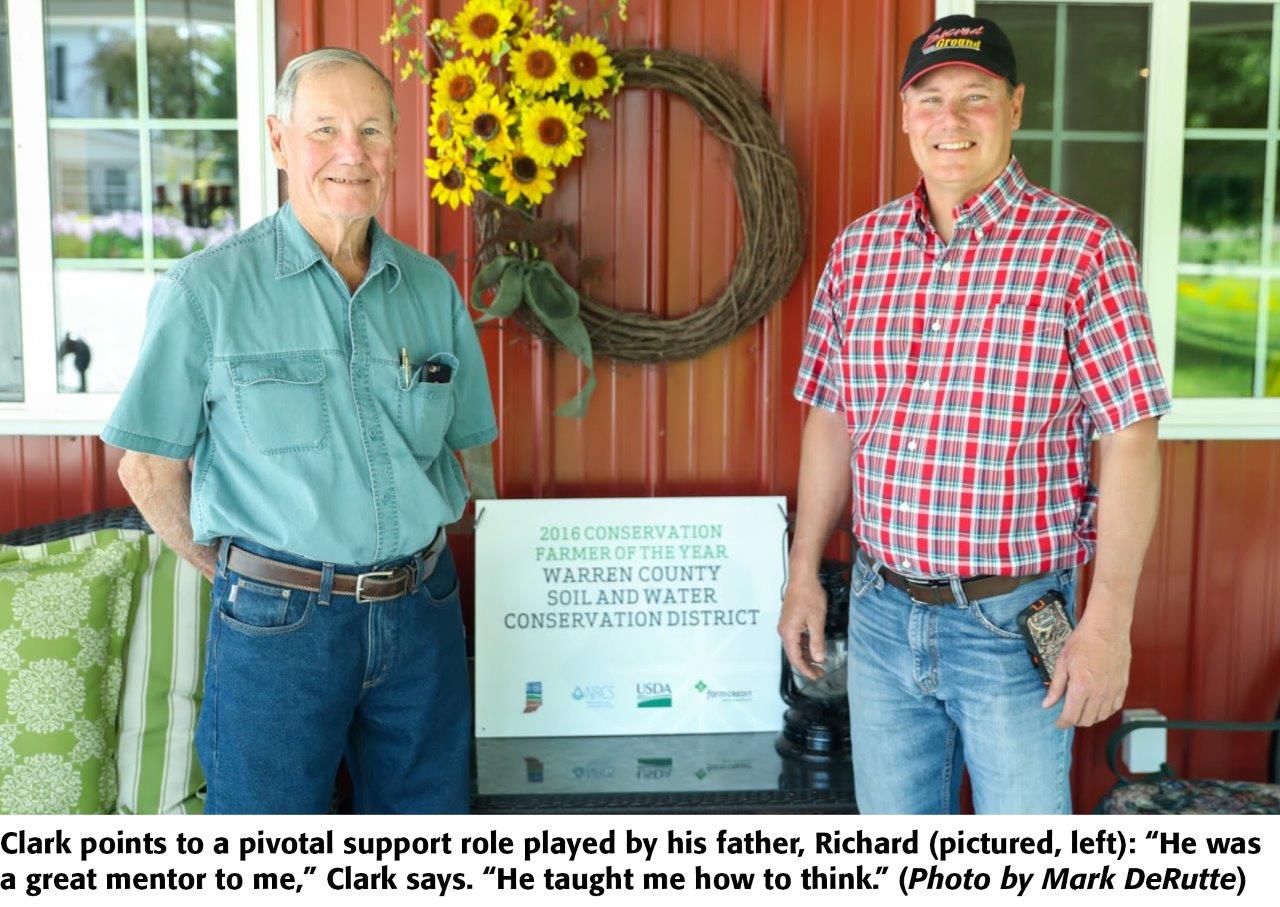 Clark stresses the vital role of family support. Major changes to a farming operation require the support of the family unit, he emphasizes. "I cannot thank my wife, Carol, and my two daughters, Jessica and Rachel, enough for constantly giving me the support I need to move this farm into future generations."
Clark points to a pivotal support and guidance role played by his father, Richard: "He was a great mentor to me. He taught me how to think. You have to be nimble and quick on your feet to be constantly rolling with Mother Nature. My dad's support was so important," Clark describes. "He's the one who provided me with just enough rope to get in trouble. He's a man who spent his whole life tilling the soil, and then I had a crazy notion of cover crops and no till and he was 100% behind me."
Staying Weird
In the year of Clark's birth, 1964, Richard began heavy use of chemicals on the family's Indiana farmland. The current crop season marks the first time in 56 years that chemical applications won't feature on Clark's land. "Everybody has to be comfortable with the situation they're in, and do what is right on their own ground, and I'm not telling anybody to flip a switch for change, but just be willing to try something new and get uncomfortable."
"I'm going to keep figuring things out and keep learning every day," Clark adds. "On my farm, I don't want to be like everyone else and I want to stay weird."
For more on Clark's operation, see Clark Land & Cattle regarding an upcoming field day on Aug. 28.
For more, see:
Government Cameras Hidden on Private Property? Welcome to Open Fields
Descent Into Hell: Farmer Escapes Corn Tomb Death
A Skeptical Farmer's Monster Message on Profitability
Farmer Refuses to Roll, Rips Lid Off IRS Behavior
Rat Hunting with the Dogs of War, Farming's Greatest Show on Legs
Killing Hogzilla: Hunting a Monster Wild Pig  
Shattered Taboo: Death of a Farm and Resurrection of a Farmer     
Frozen Dinosaur: Farmer Finds Huge Alligator Snapping Turtle Under Ice
Breaking Bad: Chasing the Wildest Con Artist in Farming History
The Great Shame: Mississippi Delta 2019 Flood of Hell and High Water
In the Blood: Hunting Deer Antlers with a Legendary Shed Whisperer
Farmer Builds DIY Solution to Stop Grain Bin Deaths
Corn Maverick: Cracking the Mystery of 60-Inch Rows
Blood And Dirt: A Farmer's 30-Year Fight With The Feds
Against All Odds: Farmer Survives Epic Ordeal
Agriculture's Darkest Fraud Hidden Under Dirt and Lies